Episode notes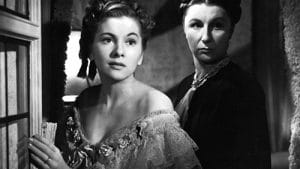 Rebecca
This week, the wonderful Katie Walsh returns to chat with director Emma Tammi. Emma is a filmmaker based in Los Angeles, whose most recent documentary films include Election Day and Fair Chair. She made her narrative feature directorial debut with the Western horror movie The Wind, which premiered at the Toronto International Film Festival in 2018, and was released in April by IFC Midnight.
The movie that Emma has chosen to discuss shares a number of similarities to her own lonely-haunted-woman film – Alfred Hitchcock's sole Best Picture winner, Rebecca. She and Katie discuss all of the masterful aspects of the movie – the mood, the set, the acting, the lighting. Emma shares how many of these attributes inspired her decisions on The Wind. Plus, Katie reveals some hilariously volatile memos between producer David O. Selznick and Alfred Hitchcock. And Emma talks about her all-time favorite Hitchcock films, and what makes him such a genius.
You can stream The Wind now.
And if you haven't seen Rebecca yet, run – DON'T WALK! – to see it.
With Katie Walsh and Emma Tammi.
You can let us know what you think of Switchblade Sisters on Twitter or Facebook.
Or email us at switchbladesisters@maximumfun.org.
Produced by Casey O'Brien and Laura Swisher for MaximumFun.org.
About the show
Switchblade Sisters is a podcast providing deep cuts on genre flicks from a female perspective. Every week, screenwriter and former film critic April Wolfe sits down with a phenomenal female film-maker to slice-and-dice a classic genre movie – horror, exploitation, sci-fi and many others! Along the way, they cover craft, the state of the industry, how films get made, and more. Mothers, lock up your sons, the Switchblade Sisters are coming!
Follow @SwitchbladePod on Twitter and join the Switchblade Sisters Facebook group. Email them at switchbladesisters@maximumfun.org.
How to listen
Stream or download episodes directly from our website, or listen via your favorite podcatcher!
Liked Episode 93: 'Rebecca' with 'The Wind' Director Emma Tammi? Listen to these next...
The best way to support MaxFun shows is by becoming a member…
Our shows are made by hand for you, and we appreciate your decision to give back to us.
Start a membership →
Already a member?
You could still help by…
...leaving a review on Apple Podcasts!
Leave a review →
...sharing it on social media!
Share on social media →
...purchasing a personal or promotional message on an upcoming episode!
Buy a Jumbotron →