Episode notes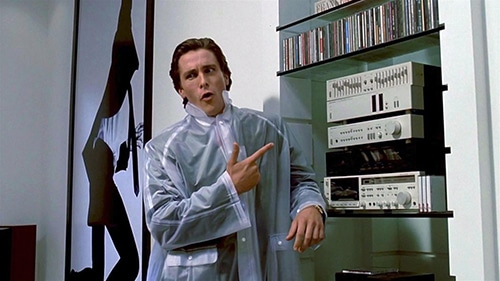 American Psycho
Chelsea Stardust has been a horror film fan since the age of 10. After working for comedy legends Ivan Reitman and Judd Apatow, Chelsea found her horror home at Blumhouse Productions, where she served as the executive assistant to Jason Blum for several years. Chelsea's first feature film, the science fiction thriller
All That We Destroy
, was part of Blumhouse series 'Into The Dark' and is currently available on Hulu. Her second feature film, the horror comedy
Satanic Panic
, written by novelist Grady Hendrix, and produced by Fangoria and Cinestate, releases nationwide theatrically, on VOD and digital HD on September 6th.
The movie that Chelsea chose to discuss is near and dear to our hearts – Mary Harron's American Psycho. She and April go in deep on the making of the film – from the writing of the script by former Switchblade Sisters guest Guinevere Turner, to the studio's objection to the casting of Christian Bale. They dive into the film's portrayal of male vanity, the performance of Christian Bale as Patrick Bateman, and the difficult job of balancing horror and comedy in one movie. Plus they also discuss Chelsea's latest film Satanic Panic.
You can see Satanic Panic on September 6th.
And if you haven't seen American Psycho yet, go watch it!
With April Wolfe and Chelsea Stardust.
You can let us know what you think of Switchblade Sisters on Twitter or Facebook.
Or email us at switchbladesisters@maximumfun.org.
Produced by Casey O'Brien and Laura Swisher. Edited by Jordan Kauwling for MaximumFun.org.
About the show
Switchblade Sisters is a podcast providing deep cuts on genre flicks from a female perspective. Every week, screenwriter and former film critic April Wolfe sits down with a phenomenal female film-maker to slice-and-dice a classic genre movie – horror, exploitation, sci-fi and many others! Along the way, they cover craft, the state of the industry, how films get made, and more. Mothers, lock up your sons, the Switchblade Sisters are coming!
Follow @SwitchbladePod on Twitter and join the Switchblade Sisters Facebook group. Email them at switchbladesisters@maximumfun.org.
How to listen
Stream or download episodes directly from our website, or listen via your favorite podcatcher!