Episode notes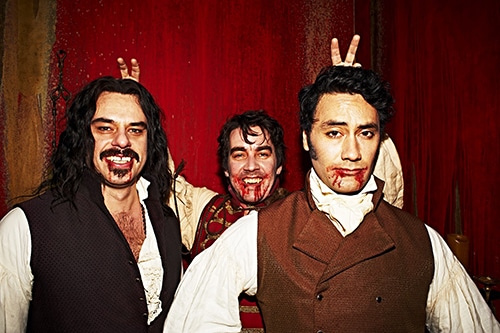 What We Do in the Shadows
Katie Tibaldi is a writer, director and producer born and raised in Michigan. She also has the distinction of being childhood best friends with the host, April Wolfe! Between working on shows such as Broad City, Nurse Jackie and Damages, Katie's already worked on over 300 episodes of television. She's currently producing the documentary feature Street Fighting Men, which will be distributed by First Run Features later this year. Her work on that made her a 2016 Sundance Institute Doc Fellow. She's also Co-Producer on truTV's Emmy-Nominated comedy series 'At Home With Amy Sedaris.' She recently directed the independent half-hour comedy pilot 'Ian Owes U' that had its world premiere at the New York Television Festival in July. She is also the writer, director and executive producer of 'Seeking Sublet,' a comedy series with 9 full episodes debuting later this year. The series has been showcased by MovieMaker Magazine, Script Magazine, Tumblr and Funny or Die.
The movie that Katie has chosen to discuss this week is the vampire mockumentary, What We Do in the Shadows. Katie and April discuss the improvisational style of the film and how it contrasts with that of Amy Sedaris on her show 'At Home With Amy Sedaris.' They also dissect the anatomy of comedy; how jokes can age badly, what makes a physical joke work, and grounding comedy in reality. Plus, they discuss vampire movies in general, and how even though something's been made a million time, it can be made unique by simply adding a personal touch
You can watch 'At Home with Amy Sedaris' on truTV in theaters now.
If you haven't seen it yet, go watch What We Do in the Shadows.
With April Wolfe and Katie Tibaldi.
You can let us know what you think of Switchblade Sisters on Twitter or Facebook.
Or email us at switchbladesisters@maximumfun.org.
Produced by Casey O'Brien and Laura Swisher for MaximumFun.org.
About the show
Switchblade Sisters is a podcast providing deep cuts on genre flicks from a female perspective. Every week, screenwriter and former film critic April Wolfe sits down with a phenomenal female film-maker to slice-and-dice a classic genre movie – horror, exploitation, sci-fi and many others! Along the way, they cover craft, the state of the industry, how films get made, and more. Mothers, lock up your sons, the Switchblade Sisters are coming!
Follow @SwitchbladePod on Twitter and join the Switchblade Sisters Facebook group. Email them at switchbladesisters@maximumfun.org.
How to listen
Stream or download episodes directly from our website, or listen via your favorite podcatcher!