Episode notes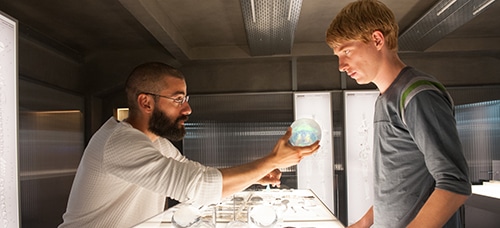 Ex Machina
Ondi is a Floridian, born in Miami, but she studied film, literature, and theater at Yale University. Her 2004 documentary Dig! made waves on the indie circuit, winning her the Grand Jury Prize at Sundance. Dig! followed two indie bands — The Brian Jonestown Massacre and The Dandy Warhols — on a journey that would bring art and commerce to collision points. She then directed Join Us before returning to Sundance with 2009's documentary We Live in Public, about the work of Josh Harris, an "internet visionary" and dot-com entrepreneur who was one of the most prominent people to sacrifice his privacy and peace for a very public internet life. We Live in Public also took home the Grand Jury Prize, making her the sole director to do it twice. This year, though, she's releasing her first narrative feature, Mapplethorpe, a look at the life of photographer Robert Mapplethorpe from his rise to fame in the 1970s to his untimely death in 1989.
The movie that Ondi chose to discuss this week is Alex Garland's Ex Machina. Based on her work with Josh Harris, Ondi has some fascinating things to say about the terrifying rise of A.I. and how we will inevitably be overtaken by machines. She elaborates on shooting her latest feature, Mapplethorpe, in just 19 days and how that frenetic energy seeped into the film – which is a good thing. Ondi reveals that for her, behind every creation there must be love. And lastly, she discusses the role of the director, as conductor, and the necessity of collaboration with the many departments on a film.
You can watch Mapplethorpe in theaters now.
If you haven't seen it yet, go watch Ex Machina on Netflix.
With April Wolfe and Ondi Timoner.
You can let us know what you think of Switchblade Sisters on Twitter or Facebook.
Or email us at switchbladesisters@maximumfun.org.
Produced by Casey O'Brien and Laura Swisher for MaximumFun.org.
About the show
Switchblade Sisters is a podcast providing deep cuts on genre flicks from a female perspective. Every week, screenwriter and former film critic April Wolfe sits down with a phenomenal female film-maker to slice-and-dice a classic genre movie – horror, exploitation, sci-fi and many others! Along the way, they cover craft, the state of the industry, how films get made, and more. Mothers, lock up your sons, the Switchblade Sisters are coming!
Follow @SwitchbladePod on Twitter and join the Switchblade Sisters Facebook group. Email them at switchbladesisters@maximumfun.org.
How to listen
Stream or download episodes directly from our website, or listen via your favorite podcatcher!