Episode notes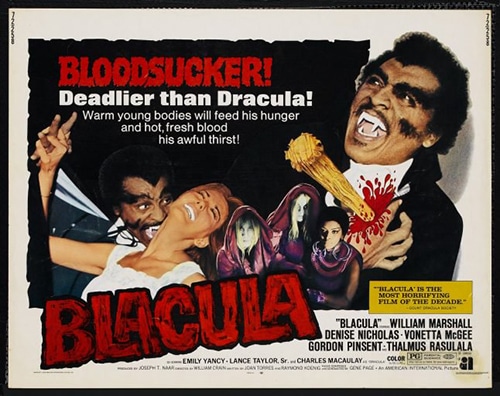 Blacula
Born in Haiti and raised in small town USA, Numa Perrier is a Los Angeles-based actor, filmmaker, and artist. Early in her acting career, she landed a recurring role on General Hospital, but now you can see her on SMILF and films including Florida Water, Jerico, In The Morning, and Beautiful Destroyer. An early creator in the digital space, she starred in and was co-writer of the web series 'The Couple' which landed an HBO deal. She later started writing a script for her first feature, which would become Jezebel. That project was accepted into the Tribeca Film Institute "Through Her Lens" incubation program. Now Jezebel is premiering at SXSW 2019. The film follows 19-year-old Tiffany as she deals with her dying mother and tries to make ends meet when her older phone sex operator sister grooms her to become one of the first black webcam girls in the 1990s.
The movie that Numa has chosen to discuss is a classic – 1972's Blacula. She and April go deep on their discussion of William Marshall's intense, Shakespearean portrayal of the eponymous vampire. Plus, they dissect how radical this film was in terms of its portrayal of black men on screen. Numa opens up about the making of her own movie, Jezebel. She gives some great advice on filming and completing a micro-budget film. Plus, she discusses the double standard that low budget black filmmakers face versus their white counterparts.
You can see Jezebel out this fall.
And if you haven't seen Blacula yet, go watch it!
With April Wolfe and Numa Perrier.
You can let us know what you think of Switchblade Sisters on Twitter or Facebook.
Or email us at switchbladesisters@maximumfun.org.
Produced by Casey O'Brien and Laura Swisher for MaximumFun.org.
About the show
Switchblade Sisters is a podcast providing deep cuts on genre flicks from a female perspective. Every week, screenwriter and former film critic April Wolfe sits down with a phenomenal female film-maker to slice-and-dice a classic genre movie – horror, exploitation, sci-fi and many others! Along the way, they cover craft, the state of the industry, how films get made, and more. Mothers, lock up your sons, the Switchblade Sisters are coming!
Follow @SwitchbladePod on Twitter and join the Switchblade Sisters Facebook group. Email them at switchbladesisters@maximumfun.org.
How to listen
Stream or download episodes directly from our website, or listen via your favorite podcatcher!