Episode notes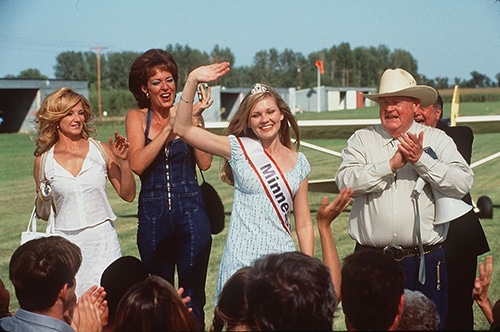 Drop Dead Gorgeous
Melanie Kirschbaum started her LA career working for Jeff and Jackie Filgo, and then Vali Chandrasekaran on Modern Family, while Alexandra Decas was with Jonathan Groff on Black-ish. The two met when their bosses were working on a pilot together, and they decided to join forces when they found themselves standing outside of their offices at Disney, bemoaning their crappy Tinder matches. They wondered, presumably aloud, "If Elizabeth Smart has it all figured out — a husband, a career, great hair — what's our excuse?" So they wrote a one-act play entitled "Smart" to get to the bottom of it, as well as a comedic one-act about 9/11 called "Center of the Universe." After that, they joined the Netflix/Dreamworks show The Boss Baby: Back in Business as staff writers, but then hit some network gold when they were staffed on the critically acclaimed hit show Grown-ish, a spinoff of Black-ish that follows Zoey Johnson as she navigates college life. Grown-ish was just renewed for season 3 and can be seen on Freeform.
The movie that Alex and Mel have chosen to discuss is an important film for Minnesotans everywhere – 1999's Drop Dead Gorgeous. The two of them and April marvel at the fact that this movie is so inappropriate by today's standards – but still so funny! The two writers open up about how their writing process used to be incredibly unorthodox. One of them is outed as a frequent "office cryer." And, of course, the conversation covers something April is very passionate about – the eyebrow styles of the 1990s.
You can see Grown-ish on Freeform.
And if you haven't seen Drop Dead Gorgeous yet, go watch it!
With April Wolfe, Melanie Kirschbaum and Alexandra Decas.
You can let us know what you think of Switchblade Sisters on Twitter or Facebook.
Or email us at switchbladesisters@maximumfun.org.
Produced by Casey O'Brien and Laura Swisher for MaximumFun.org.
In this episode...
Guests
Melanie Kirschbaum
Alexandra Decas
About the show
Switchblade Sisters is a podcast providing deep cuts on genre flicks from a female perspective. Every week, screenwriter and former film critic April Wolfe sits down with a phenomenal female film-maker to slice-and-dice a classic genre movie – horror, exploitation, sci-fi and many others! Along the way, they cover craft, the state of the industry, how films get made, and more. Mothers, lock up your sons, the Switchblade Sisters are coming!
Follow @SwitchbladePod on Twitter and join the Switchblade Sisters Facebook group. Email them at switchbladesisters@maximumfun.org.
How to listen
Stream or download episodes directly from our website, or listen via your favorite podcatcher!