Episode notes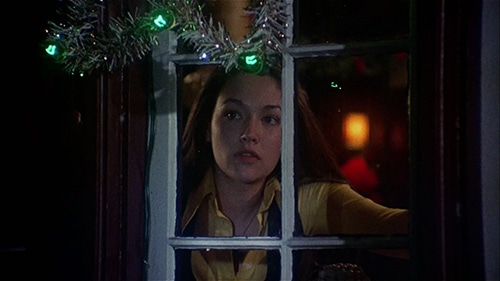 Black Christmas
Kelli first got her big break in daytime TV, both as the evil adolescent Kimberly in Ryan's Hope and then as vengeful Tina in One Life to Live. Her film debut as the 'Spirit Bunny' Cindy Carr in Fast Times at Ridgemont High caught a lot of attention, but Kelli achieved her greatest enduring cult popularity with her delightful turn as the endearingly spunky Samantha in the science-fiction end-of-the-world Night of the Comet. She's especially memorable as the sweet, killer-robot slayer Alison Parks in the entertaining romp, cult classic Chopping Mall, and as Jamie, a strong female survivor in The Zero Boys, as well as many other films.
The movie that Kelli has chosen to discuss is especially prescient because our host April Wolfe just happens to be writing the remake of the film. That's right, Kelli has chosen to discuss the 1974 classic, Black Christmas. She and April discuss Kelli's career in horror, and how Kelli takes great joy from the fact that horror has recently received the respect it has always deserved. She also talks about "embracing her crap" and coming to terms with the fact that she is most remembered for her cult and horror films. But she also elaborates on how honored she is by the support she receives from the fans of her work, and how meaningful that relationship is to her. Plus, she has a great story about how an off-the-cuff line she said while shooting a machine gun became one of Night of the Comet's most famous lines.
If you haven't seen any of Kelli's films, Night of the Comet is a great place to start.
And go watch Black Christmas too, while you're at it.
With April Wolfe and Kelli Maroney.
You can let us know what you think of Switchblade Sisters on Twitter or Facebook.
Or email us at switchbladesisters@maximumfun.org.
Produced by Casey O'Brien and Laura Swisher for MaximumFun.org.
About the show
Switchblade Sisters is a podcast providing deep cuts on genre flicks from a female perspective. Every week, screenwriter and former film critic April Wolfe sits down with a phenomenal female film-maker to slice-and-dice a classic genre movie – horror, exploitation, sci-fi and many others! Along the way, they cover craft, the state of the industry, how films get made, and more. Mothers, lock up your sons, the Switchblade Sisters are coming!
Follow @SwitchbladePod on Twitter and join the Switchblade Sisters Facebook group. Email them at switchbladesisters@maximumfun.org.
How to listen
Stream or download episodes directly from our website, or listen via your favorite podcatcher!