Episode notes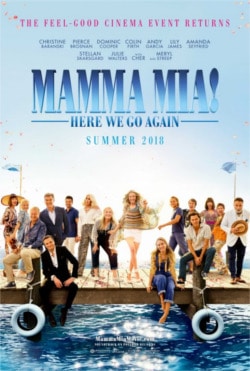 Mamma Mia! Here We Go Again
One of our most divisive episodes to date! The crew is joined by the wonderful Dave Holmes as they review
Mamma Mia! Here We Go Again
. The line is quickly drawn in the sand between those who love this movie and those who hate. You'll have to listen to find out who is on which side! Plus, professor and critic Tavia Nyong'o calls in to discuss "whiteness" as it's presented in cinema. He also elaborates on the recent screening series at the Brooklyn Academy of Music called "BAMcinématek and The Racial Imaginary Institute: On Whiteness." Much to the joy of April, there is an in depth conversation on
White Chicks
. And as always, we have Staff Picks.
In news, James Gunn is fired, Marvel provided counseling centers for Infinity War, and the Cats movie announces its cast.
Weekly Movie Recommendations:
Ricky – The Lost Boys
April – Montenegro
Alonso – Buddies
Dave – Eighth Grade
PLUS, we have two Spotify playlists. One is for Movie Soundtracks and the other is for Movie Scores. Check 'em out!
Next week we're discussing Mission Impossible: Fallout
With Dave Holmes, Tavia Nyong'o, April Wolfe, Alonso Duralde, and Ricky Carmona.
You can let us know what you think of Who Shot Ya? at @WhoShotYaPod on Twitter. Or email us at whoshotya@maximumfun.org
Produced by Casey O'Brien and Laura Swisher for MaximumFun.org.
Guests
Ricky Carmona
Alonso Duralde
April Wolfe
Tavia Nyong'o
Dave Holmes
About the show
A movie podcast that isn't just a bunch of straight white dudes. Comedian Ify Nwadiwe is joined by film producer Drea Clark and film critic Alonso Duralde for a fast, funny, flight through film. Maximum Film! is news, reviews and in-depth insight, beamed directly into your ears every week.
Email maximumfilm@maximumfun.org and follow the show on Twitter @maximum_film.
Get in touch with the show
How to listen
Stream or download episodes directly from our website, or listen via your favorite podcatcher!