Hi!
We've got two big updates for you today, starting with…
Queery joins Maximum Fun!
We're thrilled to welcome Cameron Esposito and her hit podcast, Queery, to the MaxFun network! Join Cameron every Monday as she sits down with a queer luminary for a conversation about their story, their identity, and the constantly evolving cultural landscape of queerness.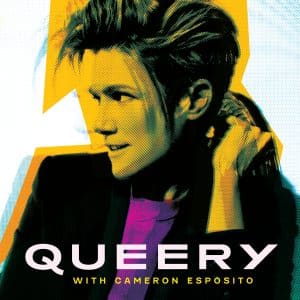 Cameron has released nearly 300 episodes so far, so if you're new to the show, you'll have plenty to keep you entertained in between new releases. If you're not sure where to jump in, don't worry—we've got some recommendations.
If you…
Queery's first episode on MaxFun was released today! Subscribe now wherever you get podcasts for a great conversation with Emily Bielagus and Mara Herbkersman, owners of a lesbian wine bar in Los Angeles called The Ruby Fruit.
Maximum Fun is officially a worker-owned cooperative!
We mentioned in March that we hoped to convert by the summer, and–as of Friday, June 30, 2023–Maximum Fun is officially a worker-owned network of artist-owned shows, supported directly by you!
Speaking of which…
you're going to start hearing a new audio logo at the end of your favorite shows! It will sound a little something like this.
ICYMI
If you missed our big announcement during MaxFunDrive, check out maximumfun.org/co-op for more details on what this means for us and for you.
We're so thrilled to continue our commitment to you and our shows as an independent values-driven network where employees will always have a say. And we're extremely grateful for the support you have given us throughout the years–we're going to rely on that now more than ever as we enter this new chapter. Thank you!
Meet the new owners of Maximum Fun!
All of the folks below have opted to become worker-owners and take part in shaping our company going forward.
Becoming a co-op is a huge accomplishment for us, but we still have a lot of work to do, so that's what we're going to do!
We'll share updates along the way, and we're working on something special for this Fall. On behalf of everyone above, thank you for helping MaxFun get to where we are today!
– Your friends at Maximum Fun