Episode notes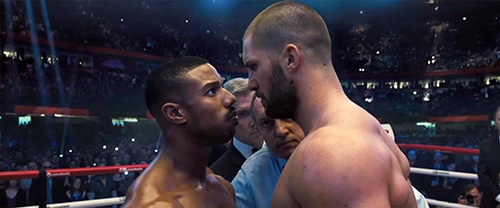 Creed II
Listening to this episode will get you as pumped as Rocky running up all those steps. And you don't even need to drink raw eggs! This episode's got some PUNCH to it. That's right, we're talking Creed II and we're joined by Philly's own CJ Sullivan. Alonso announces that he is officially in full on Christmas mode. April is excited about Alicia Malone's new book called The Female Gaze (which April also contributed to). It's Ricky's Mom's birthday and he's sending her a cake. And CJ is just happy that Brigitte Nielsen is back in our lives with her appearance in Creed II. We answer a call from the "Who Shotline" about film genres that we don't care about. We get another infusion of The El Mero Mero de Navidad Christmas Minute. And of course, staff picks.
In news, Christopher McQuarrie wants the Oscars to introduce an award for stunts, Julie Andrews is a giant fish monster, and we discuss the careers of Nicolas Roeg and Bernardo Bertolucci .
Weekly Movie Recommendations:
Ricky – McCabe & Mrs. Miller
Alonso – Cola de Mono
April – Volcano
CJ – Mississippi Grind
PLUS, we have two Spotify playlists. One is for Movie Soundtracks and the other is for Movie Scores. Check 'em out!
Next week we're discussing Green Book with Holly Walker .
With CJ Sullivan, April Wolfe, Alonso Duralde, and Ricky Carmona.
You can let us know what you think of Who Shot Ya? at @WhoShotYaPod on Twitter. Or email us at whoshotya@maximumfun.org
Call us on the "Who Shotline" – WSY-803-1664
Produced by Casey O'Brien and Laura Swisher for MaximumFun.org.
Guests
Ricky Carmona
Alonso Duralde
April Wolfe
CJ Sullivan
About the show
A movie podcast that isn't just a bunch of straight white dudes. Comedian Ify Nwadiwe is joined by film producer Drea Clark and film critic Alonso Duralde for a fast, funny, flight through film. Who Shot Ya? is news, reviews and in-depth insight, beamed directly into your ears every week.
Email whoshotya@maximumfun.org and follow the show on Twitter @whoshotyapod.
How to listen
Stream or download episodes directly from our website, or listen via your favorite podcatcher!