Episode notes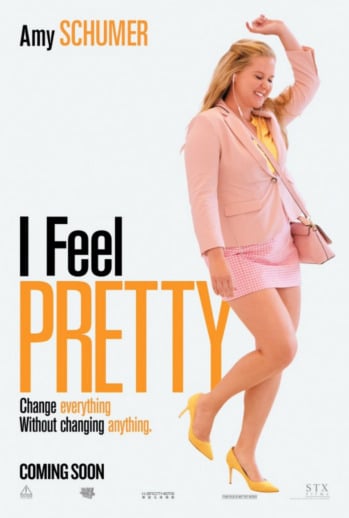 I Feel Pretty
You'll all feel pretty after this episode! This week's crew is comprised of Ricky Carmon, April Wolfe, Drea Clark, and "Mrs. Alonso Duralde" – film critic, Dave White. They tackle the somewhat controversial new film
I Feel Pretty
. They discuss beauty standards within the film industry, Amy Schumer, and the juggernaut performance of Michelle Williams as Avery LeClair. Plus, Drea shares a sweet story about Fred Durst and Dave rates some famous sex tapes. Not to mention, the gang talks about those "unconventionally sexy" movie stars that don't get the love they deserve. All on this week's episode!
Allison Mack tries to recruit Emma Watson into a sex cult, Victoria Mahoney becomes the first black director on a Star Wars film as she is hired as the second unit director on Star Wars: Episode IX, and John Travolta says working with Fred Durst "may be his favorite" experience on a film.
Weekly Movie Recommendations:
Ricky – A Face In The Crowd
Drea – Funny Girl
April – Tale of Tales
Dave – Western
PLUS, we have two Spotify playlists. One is for Movie Soundtracks and the other is for Movie Scores. Check 'em out!
Next week we're discussing Avengers: Infinity War with Drea Clark.
With Dave White, Drea Clark, April Wolfe, and Ricky Carmona.
You can let us know what you think of Who Shot Ya? at @WhoShotYaPod on Twitter. Or email us at whoshotya@maximumfun.org
Produced by Casey O'Brien and Laura Swisher for MaximumFun.org.
Guests
Ricky Carmona
April Wolfe
Drea Clark
Dave White
About the show
A movie podcast that isn't just a bunch of straight white dudes. Comedian Ify Nwadiwe is joined by film producer Drea Clark and film critic Alonso Duralde for a fast, funny, flight through film. Maximum Film! is news, reviews and in-depth insight, beamed directly into your ears every week.
Email maximumfilm@maximumfun.org and follow the show on Twitter @maximum_film.
Get in touch with the show
How to listen
Stream or download episodes directly from our website, or listen via your favorite podcatcher!