Episode notes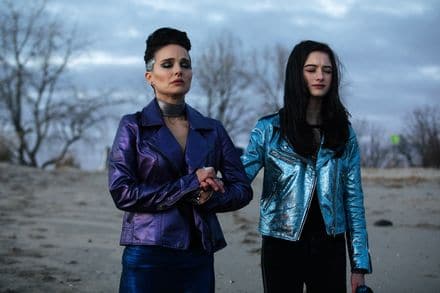 Vox Lux
This is a spicy episode! To say that there was a difference of opinion about this week's film would be an understatement. We're talking about the new Natalie Portman, popstar in crisis movie Vox Lux. The crew is joined by TV writer Jenny Jaffe ('Big Hero 6: The Series'). They answer a question from the mailbag: "What director – whose first high profile pictures were stellar – were you most surprised/disappointed to see flame out?" The Christmas season wouldn't be complete without another edition of the El Mero Mero De Navidad Christmas Minute with Alonso Duralde. And, as always, staff picks.
In news, Kevin Hart steps down as Oscars host, and Sister Act 3 moves on with no Whoopi Goldberg.
Weekly Movie Recommendations:
Ricky – Living on Soul
Alonso – Josie and the Pussycats
April – Cold War
Jenny – Frank
PLUS, we have two Spotify playlists. One is for Movie Soundtracks and the other is for Movie Scores. Check 'em out!
Next week we're discussing Love Actually
With Jenny Jaffe, April Wolfe, Alonso Duralde, and Ricky Carmona.
You can let us know what you think of Who Shot Ya? at @WhoShotYaPod on Twitter. Or email us at whoshotya@maximumfun.org
Call us on the "Who Shotline" – WSY-803-1664
Produced by Casey O'Brien and Laura Swisher for MaximumFun.org.
About the show
A movie podcast that isn't just a bunch of straight white dudes. Comedian Ify Nwadiwe is joined by film producer Drea Clark and film critic Alonso Duralde for a fast, funny, flight through film. Who Shot Ya? is news, reviews and in-depth insight, beamed directly into your ears every week.
Email whoshotya@maximumfun.org and follow the show on Twitter @whoshotyapod.
How to listen
Stream or download episodes directly from our website, or listen via your favorite podcatcher!