Episode notes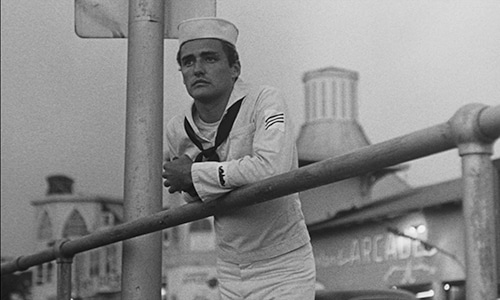 Night Tide
Allison Anders is an award-winning screenwriter, film and television director who was born in Kentucky and raised in LA. She attended film school at UCLA, where she co-directed the 1987 feature film Border Radio. Her first solo feature film, starring Fairuza Balk and Ione Skye, Gas Food Lodging premiered at the Sundance Film Festival in 1992, and earned her Independent Spirit Award Nominations for Best Director and Best Screenplay. She went on to write and direct the feature films Mi vida loca, Grace of My Heart, and Sugar Town, as well as Things Behind the Sun, for which she won a Peabody award. She's directed episodes of Sex and the City, Orange Is the New Black, Southland, Riverdale, Murder in the First and recently Sorry for Your Loss.
The movie that Allison has chosen to discuss is a deep cut, but a good one. It's the moody, horror, thriller Night Tide. Allison discusses her early fascination with the film and how it keeps re-emerging in her life. She elaborates on the beginning of her career, and how it really spawned from deeply stalking Wim Wenders. Allison talks at length about the move from independent features to directing television. And she has an amazing story of helping Harry Dean Stanton cultivate his character on Paris, Texas with a poem she wrote after having a catatonic episode.
If you haven't seen any of Allison's films, Gas Food Lodging is a great place to start.
And go watch Night Tide too, while you're at it.
With Katie Walsh and Allison Anders.
You can let us know what you think of Switchblade Sisters on Twitter or Facebook.
Or email us at switchbladesisters@maximumfun.org.
Produced by Casey O'Brien and Laura Swisher for MaximumFun.org.
About the show
Switchblade Sisters is a podcast providing deep cuts on genre flicks from a female perspective. Every week, screenwriter and former film critic April Wolfe sits down with a phenomenal female film-maker to slice-and-dice a classic genre movie – horror, exploitation, sci-fi and many others! Along the way, they cover craft, the state of the industry, how films get made, and more. Mothers, lock up your sons, the Switchblade Sisters are coming!
Follow @SwitchbladePod on Twitter and join the Switchblade Sisters Facebook group. Email them at switchbladesisters@maximumfun.org.
How to listen
Stream or download episodes directly from our website, or listen via your favorite podcatcher!