Episode notes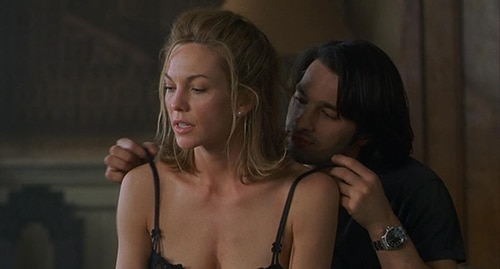 Unfaithful
Miranda Bailey is a producer, actor and director. She's produced over 20 films, among them the Oscar-nominated The Squid and the Whale, the Spirit Award-winning The Diary of a Teenage Girl, as well as James Gunn's Super, the Sundance hit Swiss Army Man and the critically acclaimed Norman. Her directorial debut came in 2010 with the documentary Greenlit, a humorous piece examining the hypocrisy inherent in Hollywood's green movement, which premiered at SXSW. Bailey's directorial narrative feature debut Being Frank, an offbeat family dramedy premiered in the Spotlight Section at the 2018 SXSW Film Festival and 2018 Los Angeles Film Festival. The film stars Jim Gaffigan, Anna Gunn, Samantha Mathis and Logan Miller.
The movie that Miranda has chosen to discuss is the super sexy Unfaithful. She and April talk about the art of seduction in film, and Miranda relates some stories of directing sex scenes in her own movies. Miranda shares her experience working with Richard Gere and why she feels she could call him if she was being murdered. Plus the two dissect director Adrian Lyne's filmography of seductive thrillers, and why the most important scenes in his films frequently involve the toilet.
You can check out Being Frank in theaters this Father's Day.
If you haven't seen it yet, go watch Unfaithful.
With April Wolfe and Miranda Bailey.
You can let us know what you think of Switchblade Sisters on Twitter or Facebook.
Or email us at switchbladesisters@maximumfun.org.
Produced by Casey O'Brien and Laura Swisher for MaximumFun.org.
About the show
Switchblade Sisters is a podcast providing deep cuts on genre flicks from a female perspective. Every week, screenwriter and former film critic April Wolfe sits down with a phenomenal female film-maker to slice-and-dice a classic genre movie – horror, exploitation, sci-fi and many others! Along the way, they cover craft, the state of the industry, how films get made, and more. Mothers, lock up your sons, the Switchblade Sisters are coming!
Follow @SwitchbladePod on Twitter and join the Switchblade Sisters Facebook group. Email them at switchbladesisters@maximumfun.org.
How to listen
Stream or download episodes directly from our website, or listen via your favorite podcatcher!