Episode notes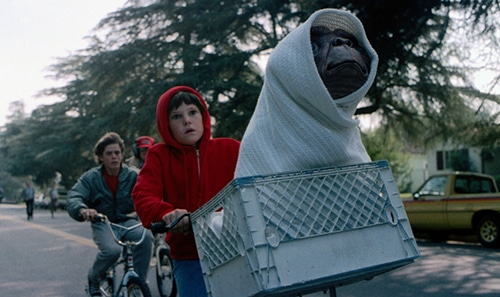 E.T. the Extra-Terrestrial
Aline began her screenwriting career in 1999 with her first produced feature, the romantic comedy Three to Tango, starring Neve Campbell. That film established Aline as a go-to writer of realistic drama and romance. She followed that film up with 2004's Laws of Attraction, starring Julianne Moore and Pierce Brosnan. But her best known work came with the film adaptation of the popular novel, The Devil Wears Prada, a modern classic, and features one of Meryl Streep's signature roles as the imperious magazine editor, Miranda Priestly. In 2014, Aline added television to her resume when she co-created the critically acclaimed, Emmy award-winning comedy series, Crazy Ex-Girlfriend, on which she served as head writer, showrunner, and executive producer. The series just finished airing its fourth and final season on the CW.
The movie that Aline has chosen to discuss is the wonderful Steven Spielberg film, E.T. the Extra-Terrestrial. She discusses how the film has become one of her favorites over the years, and one that she admires as a feat of technical storytelling. She dives into the process of working with actors to help change movie scripts on set, like working with Emily Blunt on The Devil Wears Prada to fully develop her character. She elaborates on showrunning Crazy Ex-Girlfriend and the insane schedule of producing a musical one hour sitcom. Aline also bemoans the lack of character-driven films that were so prevalent in the '70's, and how she frequently falls asleep during the final fights of Marvel films.
You can check out Crazy Ex-Girlfriend on Netflix now.
If you haven't seen it yet, go watch E.T. the Extra-Terrestrial.
With April Wolfe and Aline Brosh McKenna.
You can let us know what you think of Switchblade Sisters on Twitter or Facebook.
Or email us at switchbladesisters@maximumfun.org.
Produced by Casey O'Brien and Laura Swisher for MaximumFun.org.
About the show
Switchblade Sisters is a podcast providing deep cuts on genre flicks from a female perspective. Every week, screenwriter and former film critic April Wolfe sits down with a phenomenal female film-maker to slice-and-dice a classic genre movie – horror, exploitation, sci-fi and many others! Along the way, they cover craft, the state of the industry, how films get made, and more. Mothers, lock up your sons, the Switchblade Sisters are coming!
Follow @SwitchbladePod on Twitter and join the Switchblade Sisters Facebook group. Email them at switchbladesisters@maximumfun.org.
How to listen
Stream or download episodes directly from our website, or listen via your favorite podcatcher!