Episode notes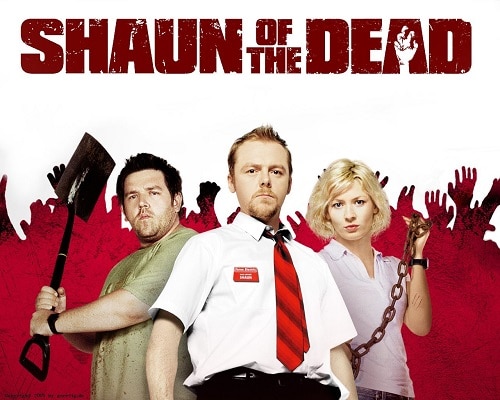 Shaun of the Dead
Naomi Ekperigin is a stand-up comedian, writer, actress, and podcaster (gotta be a multi-hyphenate these days!). She was born and raised in Harlem, New York, and studied Film and English at Wesleyan University, where she and guest host Katie Walsh made student films together, and she also started her comedy career, doing improv. After college, she toured with the National Theater for the Deaf, and started stand-up in New York in 2007. She has a half-hour stand up special on Comedy Central, and she's also appeared on HBO's Two Dope Queens, Late Night with Seth Meyers, Totally Biased with W. Kamau Bell, Full Frontal with Samantha Bee, and she has written for Broad City, Difficult People, Great News, and Mrs. Fletcher. You can find Naomi doing stand up around town in LA and New York, and she co-hosts the monthly standup show Couples Therapy in LA at the Virgil, the first Saturday of every month, with her fiance Andy Beckerman, and Couples Therapy is also a podcast, where she and Andy talk about relationships and play sets from their live show.
Naomi chose the 2004 ZomCom Shaun of the Dead, written by Simon Pegg and Edgar Wright, who also directed the film. She and Katie delve into what makes this "a perfect film", analyzing the film's use of visual jokes, pacing, and character development. Katie asks Naomi what the parallels are between the writing and humor on Shaun of the Dead and Broad City.
Plus, Ekperigin has given a lot of thought to how she would handle herself in a zombie apocalypse, and shares her thoughts on what weapons she'd carry, as well as the best clothing for survival.
If you haven't seen it yet, go watch Shaun of the Dead
With Katie Walsh and Naomi Ekperigin.
You can let us know what you think of Switchblade Sisters on Twitter or Facebook.
Or email us at switchbladesisters@maximumfun.org.
Produced by Casey O'Brien and Laura Swisher for MaximumFun.org.
In this episode...
Guests
Katie Walsh
Naomi Ekperigin
About the show
Switchblade Sisters is a podcast providing deep cuts on genre flicks from a female perspective. Every week, screenwriter and former film critic April Wolfe sits down with a phenomenal female film-maker to slice-and-dice a classic genre movie – horror, exploitation, sci-fi and many others! Along the way, they cover craft, the state of the industry, how films get made, and more. Mothers, lock up your sons, the Switchblade Sisters are coming!
Follow @SwitchbladePod on Twitter and join the Switchblade Sisters Facebook group. Email them at switchbladesisters@maximumfun.org.
How to listen
Stream or download episodes directly from our website, or listen via your favorite podcatcher!