Episode notes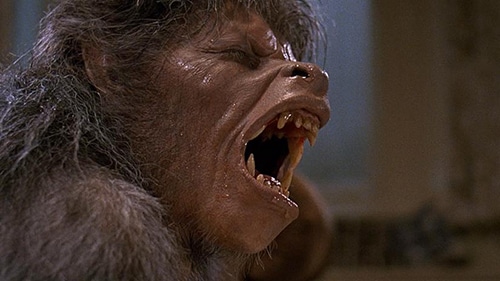 An American Werewolf in London
Guinevere Turner is a writer, director and actor who has been working in film and TV since her 1994 debut feature Go Fish, which she wrote, produced and starred in. The film premiered at Sundance and then got picked up by Samuel Goldwyn. Next, Guinevere teamed up with director Mary Harron to write the adaptation of Bret Easton Ellis' novel American Psycho, starring Christian Bale as a psychopathic finance guy who murders people for fun and to see how much he can get away with. Guinevere also worked with Harron writing The Notorious Bettie Page. She was a writer, story editor, and played a recurring character on Showtime's The L Word. Her latest screenplay, Charlie Says, tells the story of the women who killed for Charles Manson as they serve out the first few years of their decades-long prison term. Charlie Says is directed by Mary Harron and is in theaters now.
The movie that Guinevere has chosen to discuss is An American Werewolf in London. She and April elaborate on just how groundbreaking this film was in terms of its combination of comedy and real horror. They, of course, dissect the famous werewolf transformation scene. Plus, Guinevere talks about her own process, and how her childhood spent in a cult inspired her newest film Charlie Says. She reveals that she hates it when actors change the dialogue from one of her screenplays, but conversely, as an actress she always asks if she can change lines. She discusses her dislike of tricking actors into performances. And she even touches upon working with Christian Bale on American Psycho and her decades long collaborative relationship with Mary Harron.
You can check out Charlie Says in theaters now.
If you haven't seen it yet, go watch An American Werewolf in London.
With April Wolfe and Guinevere Turner.
You can let us know what you think of Switchblade Sisters on Twitter or Facebook.
Or email us at switchbladesisters@maximumfun.org.
Produced by Casey O'Brien and Laura Swisher for MaximumFun.org.
About the show
Switchblade Sisters is a podcast providing deep cuts on genre flicks from a female perspective. Every week, screenwriter and former film critic April Wolfe sits down with a phenomenal female film-maker to slice-and-dice a classic genre movie – horror, exploitation, sci-fi and many others! Along the way, they cover craft, the state of the industry, how films get made, and more. Mothers, lock up your sons, the Switchblade Sisters are coming!
Follow @SwitchbladePod on Twitter and join the Switchblade Sisters Facebook group. Email them at switchbladesisters@maximumfun.org.
How to listen
Stream or download episodes directly from our website, or listen via your favorite podcatcher!