Episode notes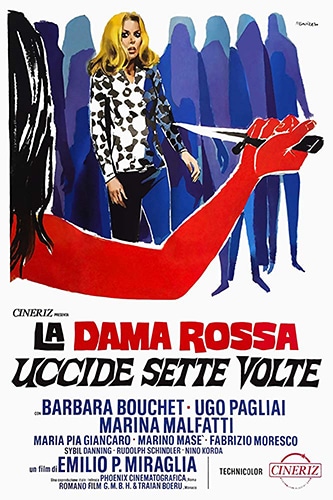 The Red Queen Kills Seven Times
Roxanne Benjamin is a Los Angeles-based filmmaker, who began her career in creative development, analyzing story for film festivals and production companies. In 2010, she moved up the ladder at a company called The Collective, where she went on to produce the well known anthology horror films V/H/S and V/H/S/2, which premiered at Sundance Midnights. Roxanne then helmed the short "Don't Fall", part of Magnolia Pictures' all-women-helmed horror anthology, XX. She served double duty on the film, co-writing and producing the segment "The Birthday Party" for musician-turned-director Annie Clark aka St. Vincent. Body at Brighton Rock is her solo feature directorial debut. It tells the story of a young woman working the trails of a mountainous park, who finds a dead body in the middle of nowhere and is given orders to guard the scene, facing down all her worst fears. Roxanne is currently working on a remake of Night of the Comet for Orion Pictures.
The movie that Roxanne has chosen to discuss is a giallo classic – The Red Queen Kills Seven Times by Emilio Miraglia. She and April go over all the tenants of the Italian giallo genre – the murder, the fashion, the blood! Roxanne talks about how giallo has influenced the way she works on her own films, and particularly, how she crafts her kills on screen. Plus she goes into detail on the production of her newest film, Body at Brighton Rock, and the "1980's TV movie" look she was going for. She and April also dissect the unfortunate prevalence of rape in the horror genre, and how so often it's disturbingly used as a device to titillate.
You can check out Body at Brighton Rock streaming now.
If you haven't seen it yet, go watch The Red Queen Kills Seven Times.
With April Wolfe and Roxanne Benjamin.
You can let us know what you think of Switchblade Sisters on Twitter or Facebook.
Or email us at switchbladesisters@maximumfun.org.
Produced by Casey O'Brien and Laura Swisher for MaximumFun.org.
About the show
Switchblade Sisters is a podcast providing deep cuts on genre flicks from a female perspective. Every week, screenwriter and former film critic April Wolfe sits down with a phenomenal female film-maker to slice-and-dice a classic genre movie – horror, exploitation, sci-fi and many others! Along the way, they cover craft, the state of the industry, how films get made, and more. Mothers, lock up your sons, the Switchblade Sisters are coming!
Follow @SwitchbladePod on Twitter and join the Switchblade Sisters Facebook group. Email them at switchbladesisters@maximumfun.org.
How to listen
Stream or download episodes directly from our website, or listen via your favorite podcatcher!