Episode notes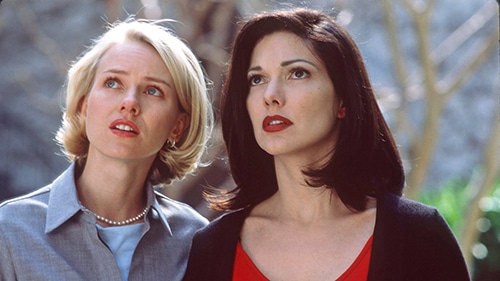 Mulholland Drive
Madeleine Olnek is a New York City based playwright and filmmaker. She began her career with award-winning and widely screened comedy shorts. ​Countertransference ​(2009) and Hold Up ​(2006) were official selections of Sundance, while ​Make Room For Phyllis ​(2007) premiered at Sarasota. Olnek was also awarded best female short film director at Sundance in 2009 by LA's Women In Film organization. Her debut feature, ​Codependent Lesbian Space Alien Seeks Same, told the story of three lesbian space aliens who come to Earth, and one of them falls in love with an earthling. It ​premiered at Sundance 2011 and is now translated into eleven languages. Her second feature, ​The Foxy Merkins,​ is a kind of buddy-comedy homage about two lesbian prostitutes. She is one of the authors of The Practical Handbook for The Actor (with a foreword by David Mamet), a widely used acting textbook. And now she's back with her third feature, Wild Nights with Emily, a perhaps more truthful yet comic telling of the life of Emily Dickinson, starring Molly Shannon as the eponymous poet. Madeleine was awarded the Guggenheim Fellowship for the completion of the film, so it is a BIG DEAL.
The movie that Madeleine has chosen to discuss is one that she calls a "masterpiece." That would be David Lynch's Mulholland Drive. Madeleine likens the film to The Bible in that there are many interpretations that are applicable across generations. She discusses how she is personally connected to the film and how she felt that it truly mirrored her own life. Madeleine even dons David Lynch "our great poet of filmmaking" and explains why this film (and Inland Empire) are his greatest poems. She also discusses why she cast Molly Shannon in her newest film, Wild Nights with Emily. And how most literary adaptations do not properly portray the true words and feelings of a piece of literature. She ends the conversation with explaining why artists have the moral obligation to put humor in their work, and how making a straight drama is not a creative choice.
You can check out Wild Night with Emily in theaters now.
If you haven't seen it yet, go watch Mulholland Drive.
With April Wolfe and Madeleine Olnek.
You can let us know what you think of Switchblade Sisters on Twitter or Facebook.
Or email us at switchbladesisters@maximumfun.org.
Produced by Casey O'Brien and Laura Swisher for MaximumFun.org.
About the show
Switchblade Sisters is a podcast providing deep cuts on genre flicks from a female perspective. Every week, screenwriter and former film critic April Wolfe sits down with a phenomenal female film-maker to slice-and-dice a classic genre movie – horror, exploitation, sci-fi and many others! Along the way, they cover craft, the state of the industry, how films get made, and more. Mothers, lock up your sons, the Switchblade Sisters are coming!
Follow @SwitchbladePod on Twitter and join the Switchblade Sisters Facebook group. Email them at switchbladesisters@maximumfun.org.
How to listen
Stream or download episodes directly from our website, or listen via your favorite podcatcher!