Episode notes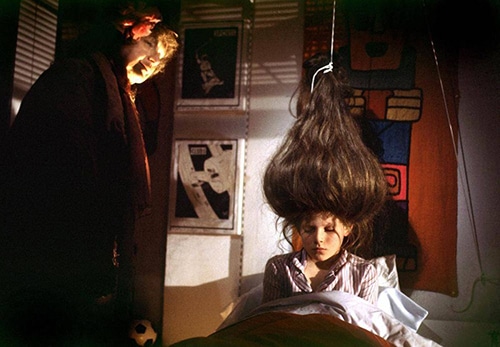 The Peanut Butter Solution
Amy Seimetz started out writing, directing, and acting in short films and made her feature debut in a pair of films, Black Dragon Canyon and the indie cult hit Wristcutters: A Love Story. She appeared in films such as Gabi on the Roof in July, Tiny Furniture, You're Next, and The Myth of the American Sleepover before directing her own feature debut, Sun Don't Shine in 2012. Amy went on to co-create and executive produce the critically acclaimed Starz series The Girlfriend Experience. In 2018, Amy directed two episodes of the acclaimed FX series Atlanta and subsequently signed a first look television production development deal with the network. But yes, she continued acting throughout that time as well, and you've seen her in Upstream Color, Alien: Covenant, The Killing, Stranger Things, Wild Nights with Emily, and Pet Sematary.
But the movie that Amy chose to discuss has nothing to do with any of that! She's chosen The Peanut Butter Solution, a Canadian children's movie from the eighties that most people thought they dreamed up. April and Amy dissect the crazy plot and how something this unconventional could be made for children. Amy discusses working on her debut Sun Don't Shine, collaborating with Hiro Murai and Donald Glover on Atlanta, and being directed by Madeleine Olnek on Wild Nights with Emily. Plus, they ponder the lessons on creative freedom that can be learned from children's films and how it's sometimes best to not think logically.
You can check out Pet Sematary and Wild Nights with Emily in theaters now.
If you haven't seen it yet, go watch The Peanut Butter Solution.
With April Wolfe and Amy Seimetz.
You can let us know what you think of Switchblade Sisters on Twitter or Facebook.
Or email us at switchbladesisters@maximumfun.org.
Produced by Casey O'Brien and Laura Swisher for MaximumFun.org.
About the show
Switchblade Sisters is a podcast providing deep cuts on genre flicks from a female perspective. Every week, screenwriter and former film critic April Wolfe sits down with a phenomenal female film-maker to slice-and-dice a classic genre movie – horror, exploitation, sci-fi and many others! Along the way, they cover craft, the state of the industry, how films get made, and more. Mothers, lock up your sons, the Switchblade Sisters are coming!
Follow @SwitchbladePod on Twitter and join the Switchblade Sisters Facebook group. Email them at switchbladesisters@maximumfun.org.
How to listen
Stream or download episodes directly from our website, or listen via your favorite podcatcher!