Episode notes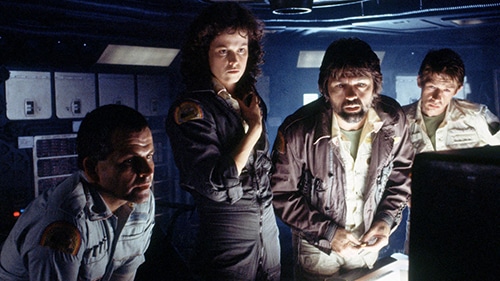 Alien
To quote the Tribeca Film Festival, director Nia DaCosta is "a name you're gonna need to get familiar with." Nia DaCosta was born and raised in New York City and attended NYU's Tisch. She started her film career paying her dues in production, on the documentary series, Ke$ha: My Crazy Beautiful Life, while also writing and directing shorts. In 2015, she took an early draft of her script for a film called Little Woods to the Sundance Directors Lab. There, she hooked up with Tessa Thompson, who read the part of a woman named Ollie, who's caught in a poverty trap in rural North Dakota and must decide whether she'll re-enter a life of crime to help her pregnant sister. Tessa Thompson continued with the project, and Nia then cast Lily James to play her sister. The film premiered in 2018 at the Tribeca Film Festival. Shortly after that, it was announced that Nia would be directing the "spiritual sequel" to Candyman off a script penned by Jordan Peele and Win Rosenfeld, which will be released by MGM.
The movie Nia has chosen to discuss is 1979's Alien. To quote Nia, "it's a perfect film." She and April discuss the revolutionary character of Ripley, played by Sigourney Weaver, and how the world had never seen someone like her before. Nia talks about working and collaborating with Tessa Thompson on her character in Little Woods. She elaborates on directing the upcoming Candyman and what she learned from Jordan Peele. Plus, Nia tells April how Tessa Thompson is excellent at acting with her hands, or as Nia calls it – "hacting."
You should check out Little Woods in theaters on April 19.
If you haven't seen it yet, go watch Alien.
With April Wolfe and Nia DaCosta.
You can let us know what you think of Switchblade Sisters on Twitter or Facebook.
Or email us at switchbladesisters@maximumfun.org.
Produced by Casey O'Brien and Laura Swisher for MaximumFun.org.
About the show
Switchblade Sisters is a podcast providing deep cuts on genre flicks from a female perspective. Every week, screenwriter and former film critic April Wolfe sits down with a phenomenal female film-maker to slice-and-dice a classic genre movie – horror, exploitation, sci-fi and many others! Along the way, they cover craft, the state of the industry, how films get made, and more. Mothers, lock up your sons, the Switchblade Sisters are coming!
Follow @SwitchbladePod on Twitter and join the Switchblade Sisters Facebook group. Email them at switchbladesisters@maximumfun.org.
How to listen
Stream or download episodes directly from our website, or listen via your favorite podcatcher!