Episode notes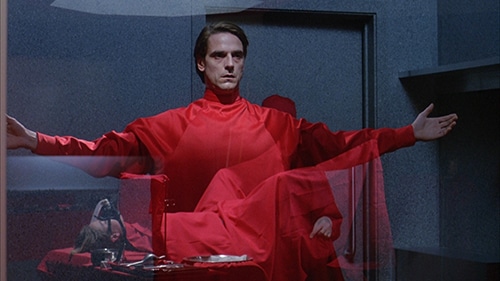 Dead Ringers
Identical twins Sylvia and Jen Soska, known as The Soska Sisters, are an unstoppable force. You may know them best from their films Dead Hooker in a Trunk and American Mary. You may also know them as the hosts of the Blumhouse game show, 'Hellevator.' Or even as the writers for the most recent installment of the Black Widow comics. They are on the program this week for a very special Max Fun Drive episode talking about David Cronenberg's masterpiece, Dead Ringers. The sisters are avid Cronenberg devotees and, not to mention, this film centers around identical twins Beverly and Elliot Mantle. The pairing of guest and movie is truly a match made in heaven. The sisters also discuss what went into making their body modification horror, American Mary, and why agents and managers warn actors about working with them.
And in celebration of the Max Fun Drive, we have an additional segment this week. April talks to writer and filmmaker Michele Meek about her new book, Independent Female Filmmakers: A Chronicle Through Interviews, Profiles, and Manifestos. They discuss the travesty that not one film made by a woman is on the AFI Top 100 Films list. And how movies actually influence society's concept of consent.
This episode has a little bit of everything. And it's all in celebration of our annual Max Fun Drive. If you would like to support this show, please become a monthly member at:
You should check out American Mary by The Soska Sisters.
And if you haven't seen it yet, go watch Dead Ringers.
ALSO, go and buy Michele's book – Independent Female Filmmakers: A Chronicle Through Interviews, Profiles, and Manifestos
With April Wolfe, The Soska Sisters, and Michele Meek.
You can let us know what you think of Switchblade Sisters on Twitter or Facebook.
Or email us at switchbladesisters@maximumfun.org.
Produced by Casey O'Brien and Laura Swisher for MaximumFun.org.
About the show
Switchblade Sisters is a podcast providing deep cuts on genre flicks from a female perspective. Every week, screenwriter and former film critic April Wolfe sits down with a phenomenal female film-maker to slice-and-dice a classic genre movie – horror, exploitation, sci-fi and many others! Along the way, they cover craft, the state of the industry, how films get made, and more. Mothers, lock up your sons, the Switchblade Sisters are coming!
Follow @SwitchbladePod on Twitter and join the Switchblade Sisters Facebook group. Email them at switchbladesisters@maximumfun.org.
How to listen
Stream or download episodes directly from our website, or listen via your favorite podcatcher!