Episode notes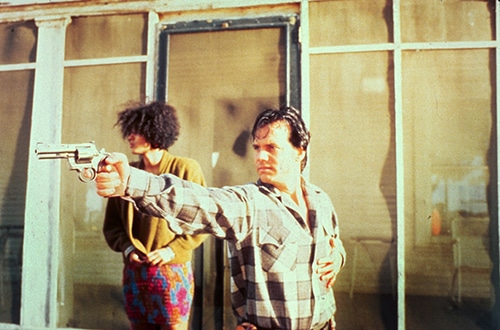 One False Move
Julia Hart was a school teacher for eight years before she quit to make a go of screenwriting. Her debut screenplay, The Keeping Room, landed on the 2012 Black List and was made into a feature directed by Daniel Barber (Harry Brown) and starring Brit Marling, Hailee Steinfeld and Sam Worthington. Julia's directorial debut, Miss Stevens, is based on Julia's experience as a teacher. It starred Lily Rabe, Timothee Chalamet, Lili Reinhart, and Rob Huebel.
In 2018, Julia's second feature, Fast Color, debuted at SXSW. It tells the story of a family of women afflicted/blessed with a mysterious power and stars Gugu Mbatha-Raw, Lorraine Toussaint, and David Straithairn. Most recently, Julia directed and co-wrote (with Jordan Horowitz) Star Girl for Disney, starring Grace Vanderwall and based on the best-selling book by Jerry Spinelli.
Although Julia only recently saw One False Move, she was shocked at how thematically similar her film Fast Color compares to it. She and April discuss the use of violence in cinema, and how a filmmaker can make it have an emotional impact on the audience. Julia also reveals how she rewrites her scripts once the films have been cast in order to tailor the role to the actor. And she and April also adulate the performance and career of the late, great Bill Paxton.
You should check out Fast Color in theaters on April 19.
If you haven't seen it yet, go watch One False Move.
With April Wolfe and Julia Hart.
You can let us know what you think of Switchblade Sisters on Twitter or Facebook.
Or email us at switchbladesisters@maximumfun.org.
Produced by Casey O'Brien and Laura Swisher for MaximumFun.org.
About the show
Switchblade Sisters is a podcast providing deep cuts on genre flicks from a female perspective. Every week, screenwriter and former film critic April Wolfe sits down with a phenomenal female film-maker to slice-and-dice a classic genre movie – horror, exploitation, sci-fi and many others! Along the way, they cover craft, the state of the industry, how films get made, and more. Mothers, lock up your sons, the Switchblade Sisters are coming!
Follow @SwitchbladePod on Twitter and join the Switchblade Sisters Facebook group. Email them at switchbladesisters@maximumfun.org.
How to listen
Stream or download episodes directly from our website, or listen via your favorite podcatcher!