Episode notes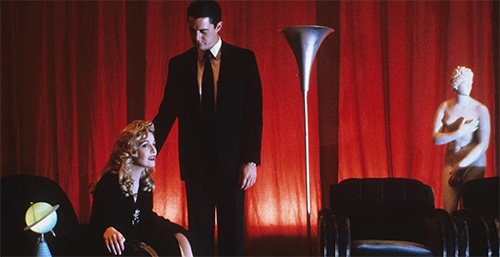 Twin Peaks: Fire Walk with Me
Born in Singapore, Sandi began her career as a film critic at The Straits Times, Singapore's largest newspaper. She then threw that all away to run off to film school at Columbia University. Sandi most recently wrote, directed, produced, and co-edited Shirkers (2018) which won the World Cinema Documentary Directing Award after its Sundance 2018 premiere. It was picked up as a Netflix Original Documentary and was on the shortlist for the 2019 Best Documentary Academy award. Shirkers reconstructs the story of an unfinished feature film Sandi made as a teenager using actual footage from the film combined with personal interrogations exploring how exactly the film came to be before it went missing.
The movie that Sandi chose to discuss this week is David Lynch's Twin Peaks: Fire Walk with Me. Although this film may not seem to have much to do with her own film, Shirkers, throughout the conversation she and April discover a great deal of overlap. Both movies are steeped in murder, reconciling the past, and mysterious disappearing male figures. Sandi details the incredible story of how she came to make the documentary. And she and April explore the intuitive filmmaking of David Lynch, and why he wanted to tell Laura Palmer's side of the story.
You can watch Shirkers on Netflix.
If you haven't seen it yet, go watch Twin Peaks: Fire Walks with Me.
With April Wolfe and Sandi Tan.
You can let us know what you think of Switchblade Sisters on Twitter or Facebook.
Or email us at switchbladesisters@maximumfun.org.
Produced by Casey O'Brien and Laura Swisher for MaximumFun.org.
About the show
Switchblade Sisters is a podcast providing deep cuts on genre flicks from a female perspective. Every week, screenwriter and former film critic April Wolfe sits down with a phenomenal female film-maker to slice-and-dice a classic genre movie – horror, exploitation, sci-fi and many others! Along the way, they cover craft, the state of the industry, how films get made, and more. Mothers, lock up your sons, the Switchblade Sisters are coming!
Follow @SwitchbladePod on Twitter and join the Switchblade Sisters Facebook group. Email them at switchbladesisters@maximumfun.org.
How to listen
Stream or download episodes directly from our website, or listen via your favorite podcatcher!