Episode notes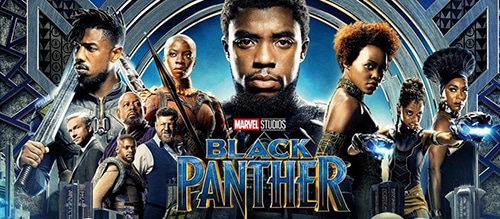 Black Panther
This week we are so lucky to have on director, actress, and dancer, Delila Vallot. Delila is a prolific worker and has too many credits to list. But some of her films as director include the thriller Tunnel Vision and the documentary Can You Dig This? which won a Jury Award at the Los Angeles Film Festival. On this episode she is here to discuss Black Panther. She and April talk about Michael B. Jordan's acting techniques and the effects of going method for a role. They touch upon how director Ryan Coogler was able to take a huge property like Black Panther and still make it personal. And they cover the intentional use of the actor's natural hair in the film and the importance of representing it in media.
If you haven't seen it yet, go watch Black Panther.
With April Wolfe with Delila Vallot.
You can let us know what you think of Switchblade Sisters at @SwitchbladePod on Twitter. Or email us at switchbladesisters@maximumfun.org
Produced by Casey O'Brien and Laura Swisher for MaximumFun.org.
About the show
Switchblade Sisters is a podcast providing deep cuts on genre flicks from a female perspective. Every week, screenwriter and former film critic April Wolfe sits down with a phenomenal female film-maker to slice-and-dice a classic genre movie – horror, exploitation, sci-fi and many others! Along the way, they cover craft, the state of the industry, how films get made, and more. Mothers, lock up your sons, the Switchblade Sisters are coming!
Follow @SwitchbladePod on Twitter and join the Switchblade Sisters Facebook group. Email them at switchbladesisters@maximumfun.org.
How to listen
Stream or download episodes directly from our website, or listen via your favorite podcatcher!