Episode notes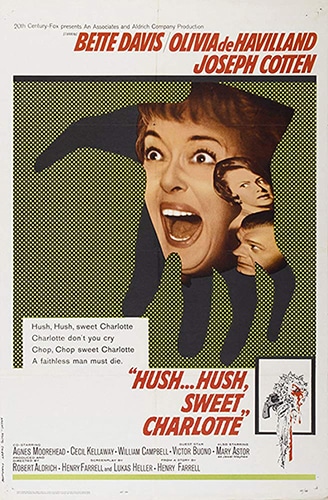 Hush…Hush, Sweet Charlotte
This episode specializes in creepy haunted houses with potentially crazy women living inside them. And who better to have on the show than director and actor, Bridey Elliott. She's on to discuss her new film Clara's Ghost. Her film features Bridey's own mother, Paula Niedert Elliott, playing Clara, an isolated woman who begins seeing a ghost around the house. And appropriately, the film Bridey chose to discuss today is Hush…Hush, Sweet Charlotte starring Bette Davis. Davis' character Charlotte also believes she's seeing ghosts in her family's plantation home. These movies work well together thematically as they both touch upon paranoia, disbelief of women, and a real confusion on who is actually going crazy. Bridey talks about making her new film with her entire family, including her mother who had never acted before. She even shares a story about how she was able to shoot a scene with a naked woman walking around her childhood neighborhood. April and she also discuss the history of Hush…Hush, Sweet Charlotte, all the behind the scenes drama, and how this is a feminist film.
Check out Clara's Ghost in theaters and streaming.
And if you haven't seen it yet, go watch Hush…Hush, Sweet Charlotte.
With April Wolfe with Bridey Elliott.
You can let us know what you think of Switchblade Sisters at @SwitchbladePod on Twitter. Or email us at switchbladesisters@maximumfun.org
Produced by Casey O'Brien and Laura Swisher for MaximumFun.org.
About the show
Switchblade Sisters is a podcast providing deep cuts on genre flicks from a female perspective. Every week, screenwriter and former film critic April Wolfe sits down with a phenomenal female film-maker to slice-and-dice a classic genre movie – horror, exploitation, sci-fi and many others! Along the way, they cover craft, the state of the industry, how films get made, and more. Mothers, lock up your sons, the Switchblade Sisters are coming!
Follow @SwitchbladePod on Twitter and join the Switchblade Sisters Facebook group. Email them at switchbladesisters@maximumfun.org.
How to listen
Stream or download episodes directly from our website, or listen via your favorite podcatcher!