Episode notes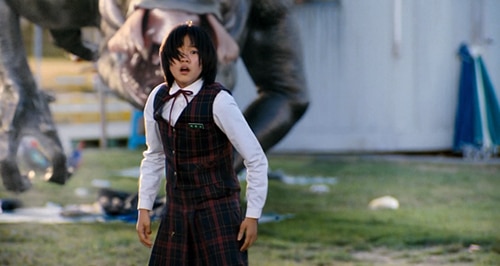 The Host
This week we are so lucky to have the director of the new film Unlovable, Suzi Yoonessi. Her movie follows Joy, played by Charlene deGuzman, a recovering sex and love addict who finds solace in making music with the gruff brother (John Hawkes) of her sponsor (Melissa Leo). The movie that Suzi has decided to discuss is 2006's Korean monster masterpiece, The Host. While maybe not immediately recognizable as an influence, Suzi explains that director Bong Joon-ho's focus on character and relationships has had a great effect on her work. She and April go over the process of pitching a movie that's never been made before, and the kind of work that goes into those types of meetings. Suzi also elaborates on working with John Hawkes and Melissa Leo. She even explains how it was difficult to cast John Hawkes because he doesn't have an email address. And lastly, Suzi and April compare how both The Host and Unloveable take real elements from the lives of the filmmakers in order to create a truly believable and engrossing story.
Check out the trailer for Unlovable which is streaming and in select theaters now.
And if you haven't seen it yet, go watch The Host.
With April Wolfe with Suzi Yoonessi.
You can let us know what you think of Switchblade Sisters at @SwitchbladePod on Twitter. Or email us at switchbladesisters@maximumfun.org
Produced by Casey O'Brien and Laura Swisher for MaximumFun.org.
In this episode...
Guests
April Wolfe
Suzi Yoonessi
About the show
Switchblade Sisters is a podcast providing deep cuts on genre flicks from a female perspective. Every week, screenwriter and former film critic April Wolfe sits down with a phenomenal female film-maker to slice-and-dice a classic genre movie – horror, exploitation, sci-fi and many others! Along the way, they cover craft, the state of the industry, how films get made, and more. Mothers, lock up your sons, the Switchblade Sisters are coming!
Follow @SwitchbladePod on Twitter and join the Switchblade Sisters Facebook group. Email them at switchbladesisters@maximumfun.org.
How to listen
Stream or download episodes directly from our website, or listen via your favorite podcatcher!