Episode notes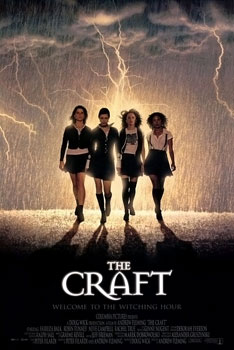 The Craft
This week's episode was recorded LIVE at Resident in downtown LA, as a part of The Voyager Institute's lecture series. So you may hear some noises in the background that you're not normally accustomed to – audience members laughing, drinks being made, and people having the best night of their lives! We have on the program the co-creator of Lifetime's 'UnREAL', Sarah Gertrude Shapiro. She's on to talk about the beloved, 90's, goth-inspiring masterpiece, The Craft. April and Sarah discuss their love for the campiness of the film and the perfect casting of Fairuza Balk as the evil teenage witch, Nancy. Sarah also elaborates on what it is like running a TV show. She dives into the challenges of directing an episode while also needing to be in the writing room. Plus, she details her journey from working on 'The Bachelor', to ending up in advertising in Portland, to creating her own TV show.
UnREAL is on Lifetime now.
If you haven't seen it yet, go watch The Craft
With April Wolfe and Sarah Gertrude Shapiro.
You can let us know what you think of Switchblade Sisters at @SwitchbladePod on Twitter. Or email us at switchbladesisters@maximumfun.org
Produced by Casey O'Brien and Laura Swisher for MaximumFun.org.
In this episode...
Guests
April Wolfe
Sarah Gertrude Shapiro
About the show
Switchblade Sisters is a podcast providing deep cuts on genre flicks from a female perspective. Every week, screenwriter and former film critic April Wolfe sits down with a phenomenal female film-maker to slice-and-dice a classic genre movie – horror, exploitation, sci-fi and many others! Along the way, they cover craft, the state of the industry, how films get made, and more. Mothers, lock up your sons, the Switchblade Sisters are coming!
Follow @SwitchbladePod on Twitter and join the Switchblade Sisters Facebook group. Email them at switchbladesisters@maximumfun.org.
How to listen
Stream or download episodes directly from our website, or listen via your favorite podcatcher!