Episode notes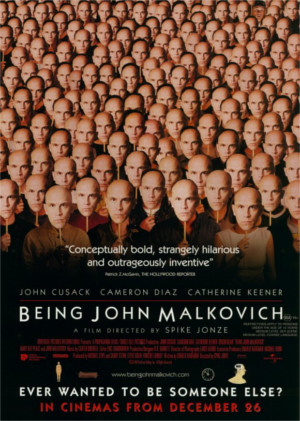 Being John Malkovich
This week we've got the amazing creator of Syfy's 'The Magicians' – Sera Gamble. She's on to talk about the film that introduced the world to the mind of Charlie Kaufman – Being John Malkovich. Sera elaborates on her deep personal connection to the film. And admits it may have something to do with John Malkovich being her very first celebrity crush. She also takes April through the process of writing, and how often times the best way to write is by not knowing where you're going. They celebrate the performances of Cameron Diaz, John Cusack, and Catherine Keener – and also Cameron Diaz's phenomenal wig! They dissect the writing of Charlie Kaufman and how he came to create one of the most unique screenplays of all time. Sera connects the lessons she's learned from this film to her own work, and how she takes great pleasure in making the audience squirm.
The Magicians is on Syfy now.
If you haven't seen it yet, go watch Being John Malkovich
With April Wolfe and Sera Gamble.
You can let us know what you think of Switchblade Sisters at @SwitchbladePod on Twitter. Or email us at switchbladesisters@maximumfun.org
Produced by Casey O'Brien and Laura Swisher for MaximumFun.org.
About the show
Switchblade Sisters is a podcast providing deep cuts on genre flicks from a female perspective. Every week, screenwriter and former film critic April Wolfe sits down with a phenomenal female film-maker to slice-and-dice a classic genre movie – horror, exploitation, sci-fi and many others! Along the way, they cover craft, the state of the industry, how films get made, and more. Mothers, lock up your sons, the Switchblade Sisters are coming!
Follow @SwitchbladePod on Twitter and join the Switchblade Sisters Facebook group. Email them at switchbladesisters@maximumfun.org.
How to listen
Stream or download episodes directly from our website, or listen via your favorite podcatcher!