Episode notes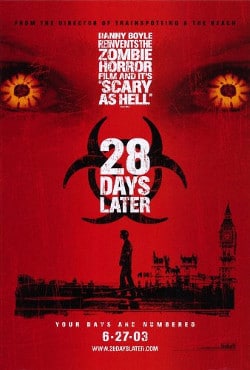 28 Days Later
We've got a great episode this week with our first pair of sisters – Lizzie and Wendy Molyneux. The 'Bob's Burgers' writers/producers are on to discuss the Danny Boyle film, 28 Days Later. They elaborate on what goes into a storyline for Bob's Burgers, staying true to the format of the show, and seeing Tina Belcher in real life. Plus they explore what makes 28 Days Later such a classic; Cillian Murphy's performance, the introduction of the "fast" zombie, and the humanity behind the film. The sisters also make a case for adopting children during a zombie outbreak. This is a must listen episode for people interested in the process of writing comedic television.
Bob's Burgers is on Fox now.
If you haven't seen it yet, go watch 28 Days Later
With April Wolfe and Lizzie Molyneux & Wendy Molyneux.
You can let us know what you think of Switchblade Sisters at @SwitchbladePod on Twitter. Or email us at switchbladesisters@maximumfun.org
Produced by Casey O'Brien and Laura Swisher for MaximumFun.org.
In this episode...
Guests
April Wolfe
Lizzie Molyneux
Wendy Molyneux
About the show
Switchblade Sisters is a podcast providing deep cuts on genre flicks from a female perspective. Every week, screenwriter and former film critic April Wolfe sits down with a phenomenal female film-maker to slice-and-dice a classic genre movie – horror, exploitation, sci-fi and many others! Along the way, they cover craft, the state of the industry, how films get made, and more. Mothers, lock up your sons, the Switchblade Sisters are coming!
Follow @SwitchbladePod on Twitter and join the Switchblade Sisters Facebook group. Email them at switchbladesisters@maximumfun.org.
How to listen
Stream or download episodes directly from our website, or listen via your favorite podcatcher!