Episode notes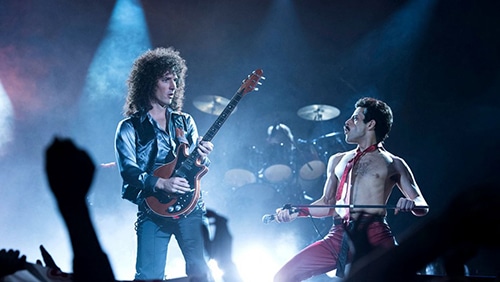 Bohemian Rhapsody
Don't stop me now! We're talking about the new Queen biopic
Bohemian Rhapsody
. We are so lucky this week to be joined by friend of the podcast, film critic Katie Walsh. This episode was recorded the night of the election, so you can certainly hear a level of optimistic anxiety in all the host's voices. The crew dissects all the important parts of the new movie: Rami Malek's fake teeth, the bad jokes, and how many times the band members say that they're a family. Plus, we chat about the phenomenon of straight actors playing gay characters. AND, most importantly, Alonso kicks of the Holiday season with a new weekly segment called
The El Mero Mero de Navidad Christmas Minute
. Each week Alonso will recap all the Christmas movies he's watched from the past week. The only caveat is that he must do it in under a minute. And as always, we have staff picks.
In news, the titles for the new Avatar sequels are in, the LA Film Festival is no more, and JJ Abrams seeks a "Megadeal."
Weekly Movie Recommendations:
Ricky – Hip-Hop Evolution
Alonso – Shirkers
April – Memories of Murder
Katie – El Ángel
PLUS, we have two Spotify playlists. One is for Movie Soundtracks and the other is for Movie Scores. Check 'em out!
Next week we're discussing Overlord.
With Katie Walsh, April Wolfe, Alonso Duralde, and Ricky Carmona.
You can let us know what you think of Who Shot Ya? at @WhoShotYaPod on Twitter. Or email us at whoshotya@maximumfun.org
Produced by Casey O'Brien and Laura Swisher for MaximumFun.org.
About the show
A movie podcast that isn't just a bunch of straight white dudes. Comedian Ify Nwadiwe is joined by film producer Drea Clark and film critic Alonso Duralde for a fast, funny, flight through film. Maximum Film! is news, reviews and in-depth insight, beamed directly into your ears every week.
Email maximumfilm@maximumfun.org and follow the show on Twitter @maximum_film.
Get in touch with the show
How to listen
Stream or download episodes directly from our website, or listen via your favorite podcatcher!