Episode notes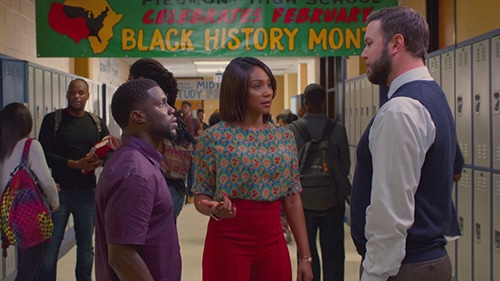 Night School
There is TOO much going on in this episode. First off, our guest is the wonderful and hilarious
Alison Becker
. She's here to discuss the new Kevin Hart/ Tiffany Haddish vehicle,
Night School
. On this episode we learn very quickly that Alison has a deep sexual attraction to Eddie Redmayne. Ricky reveals the launch of his movie club. April talks about poetry, again. And Alonso is excited that he gets to use his oven. But that's not all because the crew also gets a call from film legend
Lin Shaye
. She is the ambassador for this year's
Screamfest
. She also discusses her career, work ethic, and newest projects. (And if you want hear more Lin you can listen to her on a past episode of
Switchblade Sisters
). She's a hoot. And last but not least, we have staff picks. Way too much for one episode.
In news, John Carpenter just wants to watch basketball and play video games, Alden Ehrenreich rides a rollercoaster, and Macaulay Culkin wants to be in Fantastic Beasts.
Weekly Movie Recommendations:
Ricky – Mr. Soul!
Alonso – The Hate U Give
April – What Keeps You Alive
Alison – Eighth Grade
You can watch Alison's new show 'Are You Smarter Than A Drunk Person" now on The Brewdog Network.
PLUS, we have two Spotify playlists. One is for Movie Soundtracks and the other is for Movie Scores. Check 'em out!
Next week we're discussing A Star Is Born with Louis Virtel
With Alison Becker, April Wolfe, Alonso Duralde, and Ricky Carmona.
You can let us know what you think of Who Shot Ya? at @WhoShotYaPod on Twitter. Or email us at whoshotya@maximumfun.org
Produced by Casey O'Brien and Laura Swisher for MaximumFun.org.
Guests
Ricky Carmona
Alonso Duralde
April Wolfe
Alison Becker
Lin Shaye
About the show
A movie podcast that isn't just a bunch of straight white dudes. Comedian Ify Nwadiwe is joined by film producer Drea Clark and film critic Alonso Duralde for a fast, funny, flight through film. Maximum Film! is news, reviews and in-depth insight, beamed directly into your ears every week.
Email maximumfilm@maximumfun.org and follow the show on Twitter @maximum_film.
Get in touch with the show
How to listen
Stream or download episodes directly from our website, or listen via your favorite podcatcher!