Episode notes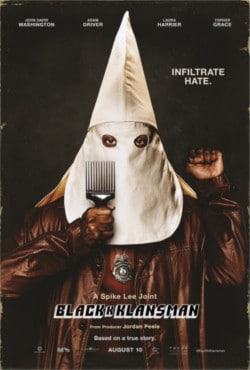 BlacKkKlansman
This is one of our wildest episodes to date. And for our 50th episode, no less! We've got first time guest, comedian Baron Vaughn (Grace and Frankie, Mystery Science Theater 3000) and returning guest Brandon Johnson (Rick and Morty, Animals). They're on to discuss the brand new film,
BlacKkKlansman
. Brandon, once again, tries to hock bootleg merchandise. Baron earns his anointed title of "The Big Pun" by making puns with a machine gun pace. April holds it down by recommending some post WWII era German-Jewish poetry. And Ricky fixes his car stereo like the Fonz. Plus, the crew discusses the films, style, and career of
BlacKkKlansman
director Spike Lee. And as always, we have Staff Picks.
In news, the "Popular Movies Oscar" gets some support, Idris Elba tells everyone NOT to believe the James Bond hype, and screenwriter John August is compiling the list of popular films that can't be found online.
Weekly Movie Recommendations:
Ricky – Kareem: Minority of One
April – Point Break
Brandon – Crazy Rich Asians
Baron – The Final Master
PLUS, we have two Spotify playlists. One is for Movie Soundtracks and the other is for Movie Scores. Check 'em out!
Next week we're discussing Crazy Rich Asians.
With Baron Vaughn, April Wolfe, Brandon Johnson, and Ricky Carmona.
You can let us know what you think of Who Shot Ya? at @WhoShotYaPod on Twitter. Or email us at whoshotya@maximumfun.org
Produced by Casey O'Brien and Laura Swisher for MaximumFun.org.
Guests
Ricky Carmona
April Wolfe
Brandon Johnson
Baron Vaughn
About the show
A movie podcast that isn't just a bunch of straight white dudes. Comedian Ify Nwadiwe is joined by film producer Drea Clark and film critic Alonso Duralde for a fast, funny, flight through film. Maximum Film! is news, reviews and in-depth insight, beamed directly into your ears every week.
Email maximumfilm@maximumfun.org and follow the show on Twitter @maximum_film.
Get in touch with the show
How to listen
Stream or download episodes directly from our website, or listen via your favorite podcatcher!