Episode notes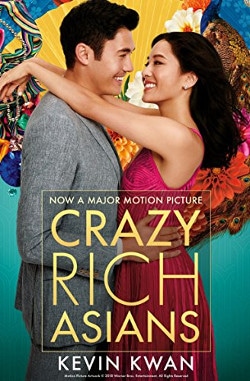 Crazy Rich Asians
This is a feel good episode, ya'll! We've got comedian
Jenny Yang
on the program to talk about
Crazy Rich Asians
. She is uniquely qualified to discuss this film because she has seen it FIVE TIMES! This episode also signals the return of "The King of Christmas" – Alonso Duralde. He has traveled to the east coast and back to regale the crew of tales from his journey and his love for lobster. Ricky pours one out for the death of "Hiatus Ricky" as he goes back to work on Tosh.0. Plus, the gang goes over some of the most atrocious examples of whitewashing in movies – from Scarlett Johansson in
Ghost in the Shell
to Emma Stone in
Aloha
. And as always, we've got Staff Picks.
In news, Michael Caine reveals the ending to Inception, Kevin Spacey's Billionaire Boys Club makes $618 in its opening weekend, Boots Riley has some thoughts on BlacKkKlansman, and Keanu Reeves and Winona Ryder may be married.
Weekly Movie Recommendations:
Ricky – 1). Crouching Tiger, Hidden Dragon 2). Cop Land
Alonso – In the Mood for Love
Jenny – To All the Boys I've Loved Before
PLUS, we have two Spotify playlists. One is for Movie Soundtracks and the other is for Movie Scores. Check 'em out!
Next week we're discussing The Happytime Murders
With Jenny Yang, Alonso Duralde, and Ricky Carmona.
You can let us know what you think of Who Shot Ya? at @WhoShotYaPod on Twitter. Or email us at whoshotya@maximumfun.org
Produced by Casey O'Brien and Laura Swisher for MaximumFun.org.
Guests
Ricky Carmona
Alonso Duralde
Jenny Yang
About the show
A movie podcast that isn't just a bunch of straight white dudes. Comedian Ify Nwadiwe is joined by film producer Drea Clark and film critic Alonso Duralde for a fast, funny, flight through film. Maximum Film! is news, reviews and in-depth insight, beamed directly into your ears every week.
Email maximumfilm@maximumfun.org and follow the show on Twitter @maximum_film.
Get in touch with the show
How to listen
Stream or download episodes directly from our website, or listen via your favorite podcatcher!