Episode notes
This week we're revisiting an episode from October of 2018 that featured Grant Imahara, whose recent death shocked and saddened us. J. Keith & Helen share some memories of Grant and how helpful he was for the show in its early days. Then you'll hear the entirety of his competition against comedian Maria Bamford.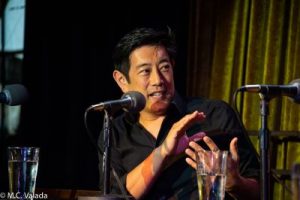 What's the difference?
What's the difference between "magma" and "lava"?
What's the difference between "baking" and "roasting?"
Areas of Expertise
Maria Bamford: 12 step programs, Self-help and pug aging.
Grant Imahara: "Star Trek," X-Men comics and "La Di Da Di" by Doug E. Fresh.
Appearing in this episode:
With guest experts:
Dr. Christine Dresser, pug breeder and health liason for the Pug Dog Club of America.
Gabriel Koerner, digital effects artist who appeared in the documentaries Trekkies and Trekkies 2.
Go Fact Yourself was devised by Jim Newman and J. Keith van Straaten, and produced in collaboration with Maximum Fun. The show is recorded at the Angel City Brewery in downtown Los Angeles.
Theme Song by Jonathan Green
David McKeever is the Live Sound Engineer.
Maximum Fun's Senior Producer is Laura Swisher
The show is edited by Julian Burrell.
Guests
Grant Imahara
Maria Bamford
Gabriel Koerner
Dr. Christine Dresser
About the show
Twice a month, host J. Keith van Straaten and co-host Helen Hong quiz the smartest celebrities they know to find out why they love what they love! Recorded before a live audience in downtown Los Angeles, this game show features comedians, actors, and musicians answering arcane questions on topics they claim to be experts in. But don't worry; if they slip up, there are real experts on hand to give us the facts!
If you're in the Los Angeles area and would like to be in the audience for a podcast taping, get your free ticket at http://www.gofactyourpod.com!
Get in touch with the show
How to listen
Stream or download episodes directly from our website, or listen via your favorite podcatcher!
Liked RERUN: Grant Imahara & Maria Bamford? Listen to these next...