Episode notes
Time to spread the love of sci-fi on a brand new episode of  Go Frak Fact Yourself!
Jason Kravits is an actor, singer and improviser who last appeared on episode 7 of Go Fact Yourself. This week, he saves the day, filling in as co-host in place of Helen Hong.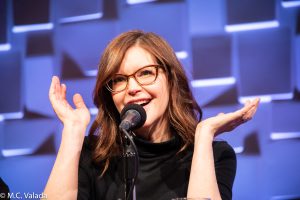 Lisa Loeb is a Grammy-winning singer-songwriter, who writes and performs music for both children and grown-ups. She often has concerts catering to both of her target audiences on the same day, but she'll tell us how her music for kids is often the most popular song for adults! Plus: how her fandom of the character Hello Kitty led to some great opportunities. You can hear Lisa every day on her Sirius XM radio show, "Stay With Lisa Loeb."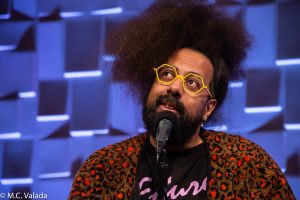 Reggie Watts is a comedian, actor and musician. He just wrapped up an eight-year stint as the band leader on "The Late Late Show with James Corden." It's a job that he really enjoyed, but he'll explain why he made a point to stop coming to rehearsals. Reggie will also tell us about being a contestant on "Jeopardy!" and why he was more familiar with a famous parody version of the show prior to his appearance on the real thing. Reggie's book, Great Falls: MT: Fast Times, Post-Punk Weirdos, and a Tale of Coming Home Again, is available for preorder now.
Areas of expertise
Lisa: "Rupaul's Drag Race" (but not good with names). Strength training. Peanut butter.
Reggie: Model railroading, The TV show "Battlestar Galactica." Butt rock.
What's the difference: Sing for your Supper
What's the difference between a song and a ballad?
What's the difference between supper and dinner?
Appearing in this episode: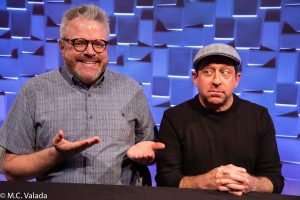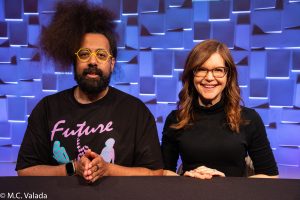 With guests experts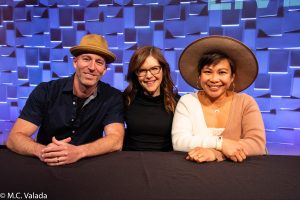 Val & Zach Fishbain: co-founders of the Los Angeles-based peanut butter company Spread The Love.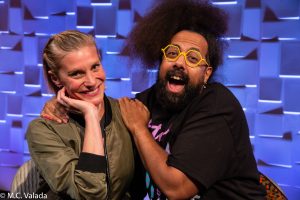 Katee Sackhoff: actor who portrayed the character Kara "Starbuck" Thrace on "Battlestar Galactica."
Theme Song by Jonathan Green.
Maximum Fun's Senior Producer is Laura Swisher.
Associate Producer and Editor is Julian Burrell.
Making sure you contact us if you were selected to listen to a Zoom show by YOU
Guests
Jason Kravits
Lisa Loeb
Reggie Watts
Val Fishbain
Zach Fishbain
Katee Sackhoff
About the show
Twice a month, host J. Keith van Straaten and co-host Helen Hong quiz the smartest celebrities they know to find out why they love what they love! Recorded before a live audience in downtown Los Angeles, this game show features comedians, actors, and musicians answering arcane questions on topics they claim to be experts in. But don't worry; if they slip up, there are real experts on hand to give us the facts!
If you're in the Los Angeles area and would like to be in the audience for a podcast taping, get your free ticket at http://www.gofactyourpod.com!
Get in touch with the show
How to listen
Stream or download episodes directly from our website, or listen via your favorite podcatcher!
Liked Ep. 128: Lisa Loeb & Reggie Watts? Listen to these next...