Episode notes
What happens in Vegas will be recorded for a podcast – again! Once more, live from the Game Show Boot Camp in Las Vegas, Nevada, it's a new episode of Go Fact Yourself!
Amy Schneider has a 40 game win streak on "Jeopardy!" It's the second-longest streak in the history of the show; and yet, she and her classmates in 8th grade predicted she would go on to appear on the show. Amy will tell us everything that went into her time as a trivia champion, including perfecting her buzzer technique.
Brandon Blackwell is also a "Jeopardy!" winner. In fact, he's competed in trivia all around the world. What's the difference between winning a competition in the U.S. vs. winning one in the U.K.? It all comes down to the bottom line. Brandon will also tell us why understanding his physical limitations as a child led to his career in trivia.
Our guests will compete to answer trivia about graduate-level science and high school-era TV shows.
What's the Difference: Betting the Farm
What's the difference between betting and gambling?
What's the difference between a farm and a ranch?
Areas of Expertise:
Amy: The book Moby Dick, the Dutch war for independence, and theTV show "Daria"
Brandon: The Periodic Table, winners of the Nobel Peace Prize, and things Paulie Walnuts has said on the TV show "The Sopranos."
Appearing in this episode: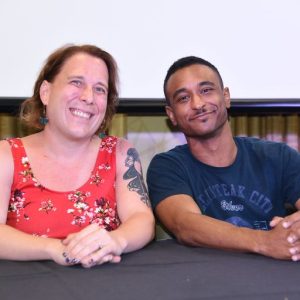 With guest experts: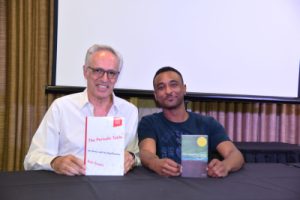 Dr. Eric Scerri, UCLA professor and author of the book The Periodic Table: Its Story and its Significance.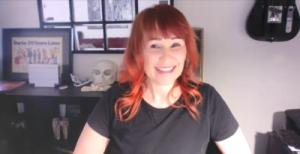 Susie Lewis, Co-creator of the MTV series "Daria"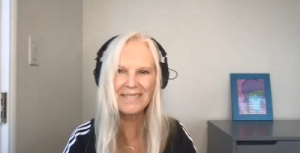 Tracy Grandstaff, voice of Daria
Go Fact Yourself was devised and is produced by Jim Newman and J. Keith van Straaten, in collaboration with Maximum Fun.
Theme Song by Jonathan Green.
Live show engineer is Dave McKeever.
Maximum Fun's Senior Producer is Laura Swisher.
Associate Producer and Editor is Julian Burrell.
Seeing our upcoming live shows in LA by YOU!
Guests
Amy Schneider
Brandon Blackwell
Dr. Eric Scerri
Tracy Grandstaff
Susie Lewis
About the show
Twice a month, host J. Keith van Straaten and co-host Helen Hong quiz the smartest celebrities they know to find out why they love what they love! Recorded before a live audience in downtown Los Angeles, this game show features comedians, actors, and musicians answering arcane questions on topics they claim to be experts in. But don't worry; if they slip up, there are real experts on hand to give us the facts!
If you're in the Los Angeles area and would like to be in the audience for a podcast taping, get your free ticket at http://www.gofactyourpod.com!
Get in touch with the show
How to listen
Stream or download episodes directly from our website, or listen via your favorite podcatcher!
Liked Ep. 113: Amy Schneider & Brandon Blackwell? Listen to these next...