Episode notes
[r] New to Bullseye? Subscribe to our podcast in iTunes or with your favorite podcatcher to make sure you automatically get the newest episode every week.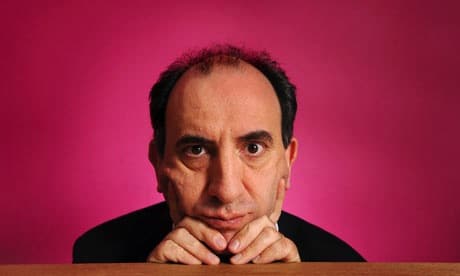 Photo: Linda Nylind
Veep Creator Armando Iannucci on Poking Fun at Politics
What does the career trajectory of a lifelong political junkie look like? There are the obvious choices, like a major in Political Science, law school…maybe even a career in politics. But Armando Iannucci took a different path – one that led him to Oxford, an incomplete PhD, and work writing and producing comedy, like his acclaimed political satire
The Thick of It
and the feature film
In the Loop
.
Iannucci created a new take on American politics in the HBO comedy Veep. Now in its second season, the show follows a fictional Vice President (played by Julia Louis-Dreyfus) with lofty ambitions but little actual power. Veep showcases the comedy inherent in the struggle for the political upper hand, the constant panic and exhaustion. Seemingly small gaffes quickly escalate into ridiculous catastrophes. The show's dialogue is marked by careful attention to absurd politi-speak and some especially creative cursing.
Iannucci joins us to talk about the difference between UK and US politics, why he sympathizes with our elected officials, and conducting swearing research in Washington, D.C.
Ianucci's new film The Death of Stalin comes out later this year.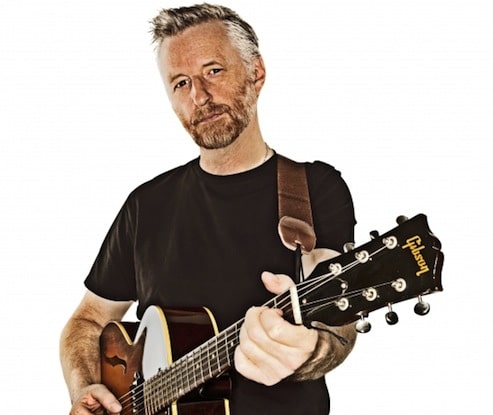 Photo:
The Song That Changed My Life, with Billy Bragg: Bob Dylan's The Times They Are A-Changin
Billy Bragg performs politically-minded folk music with a punk rock edge, songs with a tone and attitude somewhere between Woody Guthrie and the Sex Pistols. But what led to him developing his voice as an artist?
As Bragg explains, one of the most pivotal moments in his life happened during his lunch break at a record store. He put on a record that changed his life: Bob Dylan's folk anthem "The Times They Are A-Changin'".
Julia Louis-Dreyfus on Tapping Into Frustration for Seinfeld and Veep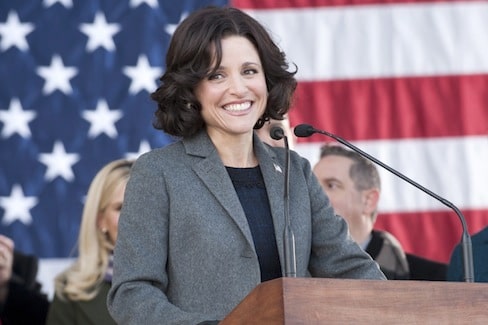 Most of us first knew Julia Louis-Dreyfus from her Emmy-winning role as Elaine on
Seinfeld
. Elaine flailed, fought, and danced her way into our hearts as the friend to "losers" Jerry, George and Kramer. But Louis-Dreyfus first arrived in entertainment fresh off her college comedy sketch group, as a repertory player in the Dick Ebersol-helmed cast of
Saturday Night Live
.
After Seinfeld, she went on to anchor several sitcoms, including The New Adventures of Old Christine, with delightful guest appearances on shows like Arrested Development and 30 Rock. Her career has now taken her to a different cast of skewed characters on HBO's Veep.
On Veep, Louis-Dreyfus plays Selina Meyer, Vice President of the United States. Though the vice-presidency is a prestigious position, Meyer's day-to-day work is less than impressive. Her staff members claw at each other for power and prestige. She suffers awkward encounters with the media and consistent snubs from the President (a running gag on the show is Selina's off-hand question, "Did the President call?" The answer is usually no).
Julia Louis-Dreyfus joins us to talk about the similarities she's discovered between show business and politics, the boys' club that was SNL in the 80s, and a certain terrible dance that still haunts her to this day.
Veep airs on HBO on Sundays at 10:30/9:30 PM central.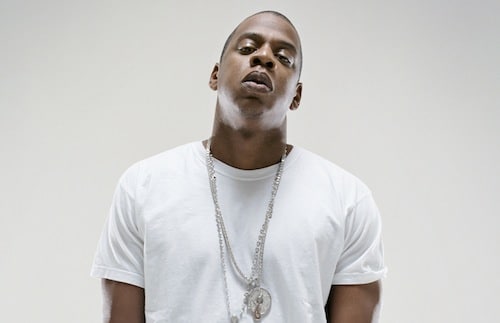 The Outshot: Jay-Z's "Threat"
Rap isn't poetry – it's its own thing. But, like poets, many of the best rappers imbue their lyrics with layers and layers of meaning. Need proof? Jesse suggests a close listen to Jay-Z's "Threat."
Guests
Julia Louis-Dreyfus
Armando Iannucci
Billy Bragg
About the show
Bullseye is a celebration of the best of arts and culture in public radio form. Host Jesse Thorn sifts the wheat from the chaff to bring you in-depth interviews with the most revered and revolutionary minds in our culture.
Bullseye has been featured in Time, The New York Times, GQ and McSweeney's, which called it "the kind of show people listen to in a more perfect world." Since April 2013, the show has been distributed by NPR.
If you would like to pitch a guest for Bullseye, please CLICK HERE. You can also follow Bullseye on Twitter, YouTube, and Facebook. For more about Bullseye and to see a list of stations that carry it, please click here.
Get in touch with the show
How to listen
Stream or download episodes directly from our website, or listen via your favorite podcatcher!