Episode notes
New to Bullseye? Subscribe to our podcast in iTunes or with your favorite podcatcher to make sure you automatically get the newest episode every week.
And if you're looking for a particular segment to listen to or share, check us out on Soundcloud.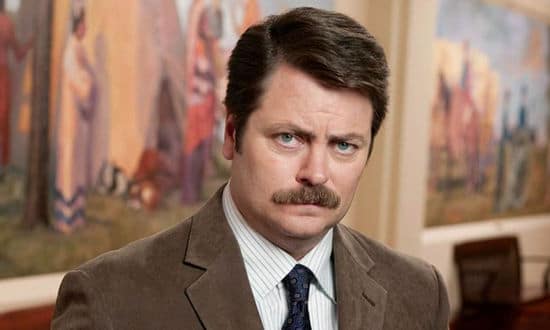 Nick Offerman Talks Mustaches, Woodworking, and Luck
Nick Offerman is a man accustomed to being recognized. As Ron Swanson on Parks and Recreation, he sports one of the most revered moustaches in recent television history.
It would be easy to conflate Offerman with Swanson. They're both masculine, moustachioed men with a penchant for carpentry, but Offerman is quick to distinguish himself from his civil servant counterpart. He credits the writers of the show for giving Swanson possession of larger-than-life quirks, such as the ability to ingest mountains of bacon or guzzle moonshine by the jug. Offerman, however, has a much more relatable story to tell.
He grew up in small town Illinois and studied theatre in college before performing in several Chicago-based theatre and improv companies. He joins us to talk about his rural roots, why woodworking has remained an important part of his life (and not an affectation), and the public perception of Ron Swanson as the personification of manliness.
Nick Offerman's new book of essays is Paddle Your Own Canoe: One Man's Fundamentals for Delicious Living. You can also catch him on the sixth season of Parks and Recreation, airing now.
If you liked this, let someone know! Click here to share this segment with your friends.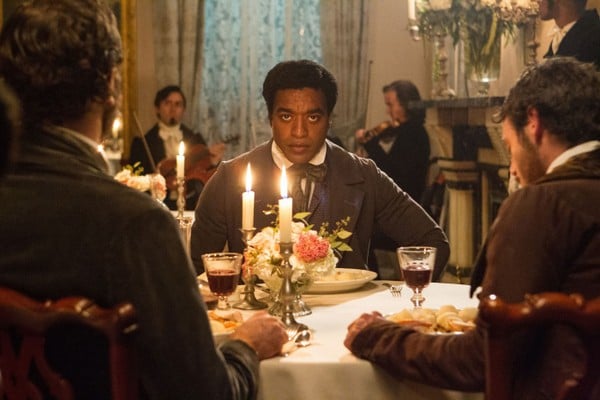 Pop Culture Happy Hour Talks Movies and Comics
Linda Holmes and Glen Weldon of NPR's Pop Culture Happy Hour stop by to recommend a couple of their current favorite things.
Linda recommends 12 Years a Slave, a film about the true story of a free black man kidnapped and sold into slavery. The film, starring Chiwetel Ejiofor and directed by Steve McQueen, tells the story of a man thrust into a life of injustice he doesn't deserve. And as Linda explains, it's more than just an "important" movie.
The movie is in theaters on October 18.
Glen recommends the new comic Sex Criminals, written by Matt Fraction with art by Chip Zdasky. It may have a racy title but, at its heart, it's the classic coming of age story about a girl who discovers that by doing the deed, she can stop time.
You can hear Glen and Linda weekly on the Pop Culture Happy Hour podcast, and find Linda's writing on NPR's Monkey See blog.
If you liked this, let someone know! Click here to share this segment with your friends.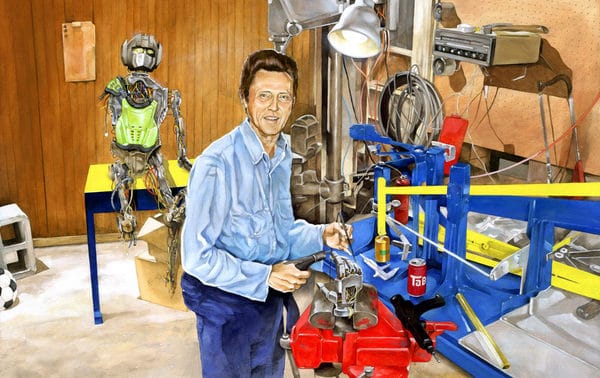 Brandon Bird's "Lazy Sunday Afternoon"
Brandon Bird on Painting, Mr. T and Learning How to Make Art
Brandon Bird is a painter, but the purpose of his work isn't to capture the light dancing across a lake. Or to make a broad point about society. The point of his art is to make people laugh.
Brandon tells us about the day he became an artist, and how he went from making fan art to creating something really special.
His new activity book, Brandon Bird's Astonishing World of Art, includes Law and Order SVU valentines, a page where you can draw Nicolas Cage a new hairstyle, and a painting of Peter Dinklage as Wolverine (among many other things).
If you liked this, let someone know! Click here to share this segment with your friends.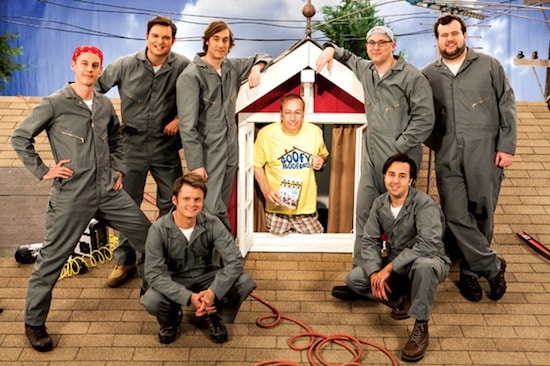 Comedy Sketch Group The Birthday Boys Asks: "What if Seven Morons Were Doing That Thing?"
The Birthday Boys' work is silly. Really silly. They're a group of seven comedians, and their sketch comedy is warm, almost never obscene or profane, sort of uniquely American. Not too long ago, they caught the eye of comedy superstar and Mr. Show co-creator Bob Odenkirk. He's now the executive producer, cast member and an addition to the writer's room on their new television show for IFC.
Group members Jeff Dutton, Tim Kalpakis and Chris VanArtsdalen join us to talk about why they commit to the silliness, what makes a good sketch and how one of their idols became creatively involved in their first TV series.
The Birthday Boys premieres on October 18 on IFC.
If you liked this, let someone know! Click here to share this segment with your friends.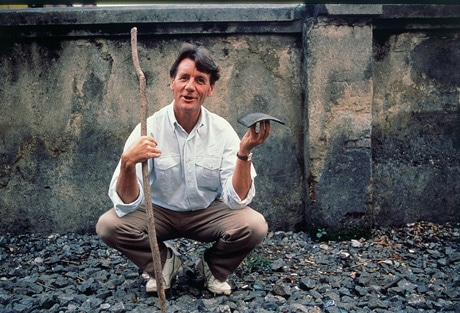 The Outshot: Michael Palin
You probably know him from hamming it up for Monty Python in the '70s, but since then Michael Palin has released a steady stream of travel documentaries. Jesse talks about Michael Palin and why he's everything good about British colonialism.
If you liked this, let someone know! Click here to share this segment with your friends.
Guests
Nick Offerman
The Birthday Boys
Brandon Bird
Linda Holmes
Glen Weldon
About the show
Bullseye is a celebration of the best of arts and culture in public radio form. Host Jesse Thorn sifts the wheat from the chaff to bring you in-depth interviews with the most revered and revolutionary minds in our culture.
Bullseye has been featured in Time, The New York Times, GQ and McSweeney's, which called it "the kind of show people listen to in a more perfect world." Since April 2013, the show has been distributed by NPR.
If you would like to pitch a guest for Bullseye, please CLICK HERE. You can also follow Bullseye on Twitter, YouTube, and Facebook. For more about Bullseye and to see a list of stations that carry it, please click here.
Get in touch with the show
How to listen
Stream or download episodes directly from our website, or listen via your favorite podcatcher!