Episode notes
New to Bullseye? Subscribe to our podcast in iTunes or with your favorite podcatcher to make sure you automatically get the newest episode every week.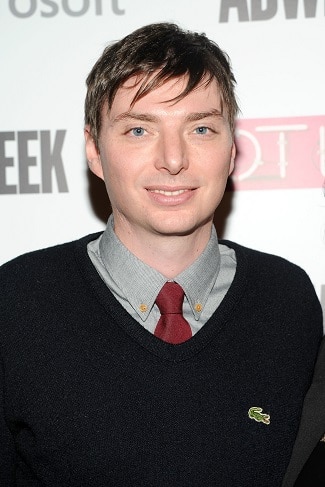 Photo: Ben Gabbe / Getty Images
Mike O'Brien on the latest season of NBC's 'A.P. Bio'
Mike O'Brien was a staff writer on
Saturday Night Live
for seven seasons. He worked on the show around the same time as some stellar alum: Fred Armisen, Bill Hader, Seth Meyers, Andy Samberg, Jason Sudeikis and Kristen Wiig. In 2014, Mike was a featured player on SNL alongside Aidy Bryant, Kate McKinnon, Colin Jost, Kyle Mooney, Bobby Moynihan and Cecily Strong.
His latest work can be seen on NBC's A.P. Bio. Mike is creator, writer and showrunner of the series. The show stars Glenn Howerton, Patton Oswalt and legendary SNL writer Paula Pell.
If you haven't seen the show, here's the premise: Jack portrayed by Glenn Howerton used to teach philosophy at Harvard. Now he doesn't. To make ends meet he gets a job teaching A.P. Biology at a high school in his hometown of Toledo, Ohio. He's a grumpy guy who thinks if the world were a fair place, he'd be getting a MacArthur Genius Grant or whatever. He's a jerk. He knows it. He doesn't care.
Maybe you're thinking you've seen this kind of show before. The teacher returns home. Then he grows as a person, becomes lovable and relatable. But A.P. Bio isn't that show. If our scrooge protagonist learns and grows, well, there isn't a show. And that's what makes it so funny – it takes a sitcom trope you're familiar with, but refuses to play by the rules.
Mike joins us to talk about the latest season of A.P. Bio. He grew up in Toledo, and explains some of the baffling questions the writers room had about his hometown. Plus, working with Paula Pell – and why sometimes it's better to leave the camera rolling on her improvising than spending hours perfecting jokes in the writers room.
About the show
Bullseye is a celebration of the best of arts and culture in public radio form. Host Jesse Thorn sifts the wheat from the chaff to bring you in-depth interviews with the most revered and revolutionary minds in our culture.
Bullseye has been featured in Time, The New York Times, GQ and McSweeney's, which called it "the kind of show people listen to in a more perfect world." Since April 2013, the show has been distributed by NPR.
If you would like to pitch a guest for Bullseye, please CLICK HERE. You can also follow Bullseye on Twitter, YouTube, and Facebook. For more about Bullseye and to see a list of stations that carry it, please click here.
Get in touch with the show
How to listen
Stream or download episodes directly from our website, or listen via your favorite podcatcher!