Episode notes
New to Bullseye? Subscribe to our podcast in iTunes or with your favorite podcatcher to make sure you automatically get the newest episode every week.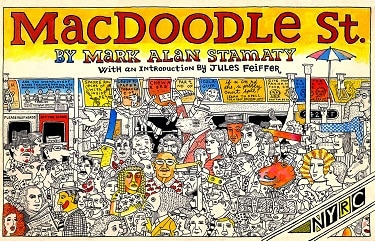 Photo: New York Review Comics
Cartoonist Mark Alan Stamaty on 'MacDoodle Street,' 'Who Needs Donuts?,' and more
We're thrilled to share our conversation with cartoonist Mark Alan Stamaty. We're huge fans of his children's book – "Who Needs Donuts?" Mark's wonderfully illustrated book tells the story of a kid in a cowboy suit who's bored with his family. He hitches up his wagon and heads out for the big city in search of donuts. After a wild adventure he realizes there are things far greater than donuts. It's a charming and hilarious book for kids. And, trust us, adults will love it, too!
Mark Alan Stamaty got his start working at a handful of New York papers, with a few regular comic strips. There's Washingtoon, a political strip. A few regular comics in the New York Review of Books. And MacDoodle Street, which he published for the Village Voice in the late '70s.
MacDoodle Street was just released as an anthology collection. In MacDoodle Street, you see New York kind of the way a kid from outside the city might: a wild, bizarre and kind of fantastic place. Overwhelming, but endlessly interesting and stimulating. This new edition features a brand-new, twenty-page autobiographical comic by Stamaty on why the short-lived but treasured MacDoodle Street never returned to the Village Voice. It's a unique, funny, and poignant look at the struggles and joys of being an artist.
We're thrilled to share this conversation with Mark Alan Stamaty. He'll give us the scoop on his new anthology collection, and how his childhood influenced his work. Both of his parents had the same profession as him. Plus, where he gets the silly ideas for his stories and illustrations. Rhinos on the subway wearing fancy hats! Shark-shaped cars!
About the show
Bullseye is a celebration of the best of arts and culture in public radio form. Host Jesse Thorn sifts the wheat from the chaff to bring you in-depth interviews with the most revered and revolutionary minds in our culture.
Bullseye has been featured in Time, The New York Times, GQ and McSweeney's, which called it "the kind of show people listen to in a more perfect world." Since April 2013, the show has been distributed by NPR.
If you would like to pitch a guest for Bullseye, please CLICK HERE. You can also follow Bullseye on Twitter, YouTube, and Facebook. For more about Bullseye and to see a list of stations that carry it, please click here.
Get in touch with the show
How to listen
Stream or download episodes directly from our website, or listen via your favorite podcatcher!