Episode notes
New to Bullseye? Subscribe to our podcast in iTunes or with your favorite podcatcher to make sure you automatically get the newest episode every week.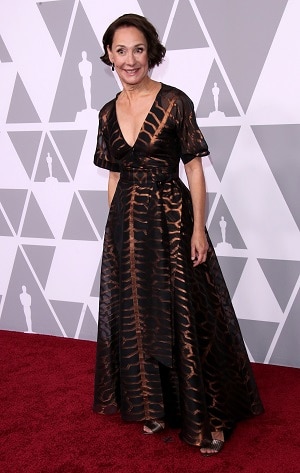 Photo: Dan MacMedan/Getty Images
Laurie Metcalf on her Academy Award nominated role in 'Lady Bird'
Laurie Metcalf is a veteran actor. In the late 1970s, while she was in college, she and a few of her classmates started putting on plays at a Unitarian Church in Deerfield, Illinois. Those classmates included people like Gary Sinise, John Malkovich, and Tracy Letts.
The theater, called Steppenwolf, became one of the most acclaimed theatre companies in the US. Maybe you were lucky enough to see Laurie in the Off-Broadway rendition of Balm in Gilead back in the 80s – she won a bunch of awards for her part in it.
You almost definitely know Laurie from TV's Roseanne. For 9 years she played Jackie, Roseanne's sister on the show. She's now starring in The Conners, the ABC produced spinoff of the show.
In 2017, she was nominated for her first Academy Award for her starring role opposite Saoirse Ronan in Lady Bird, the fascinating, beautiful coming of age film directed by Greta Gerwig.
The movie centers around the title character, Lady Bird McPherson, a high school senior living in Sacramento, California. She's played by Ronan. Lady Bird dreams of leaving Sacramento, moving to the east coast, going… wherever writers live, she says.
These days, Laurie's been working a lot on Broadway. She's been nominated for a bunch of Tony's and won 2017's Best Actress award for her role in A Doll's House Part II. In a profile earlier this month the New York Times called her "The First Lady of American Theater."
This interview originally aired in February of 2018
About the show
Bullseye is a celebration of the best of arts and culture in public radio form. Host Jesse Thorn sifts the wheat from the chaff to bring you in-depth interviews with the most revered and revolutionary minds in our culture.
Bullseye has been featured in Time, The New York Times, GQ and McSweeney's, which called it "the kind of show people listen to in a more perfect world." Since April 2013, the show has been distributed by NPR.
If you would like to pitch a guest for Bullseye, please CLICK HERE. You can also follow Bullseye on Twitter, YouTube, and Facebook. For more about Bullseye and to see a list of stations that carry it, please click here.
Get in touch with the show
How to listen
Stream or download episodes directly from our website, or listen via your favorite podcatcher!