Episode notes
New to Bullseye? Subscribe to our podcast in Apple Podcasts or with your favorite podcatcher to make sure you automatically get the newest episode every week.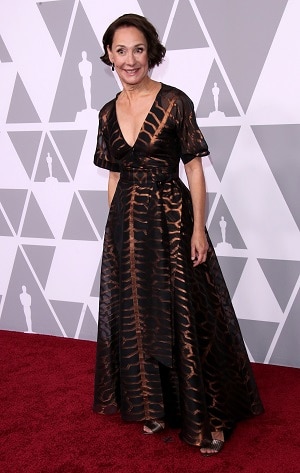 Photo: Dan MacMedan/Getty Images
First time Academy Award nominee Laurie Metcalf on her long career in theatre and television
You probably know Laurie Metcalf from her role as Roseanne's sister, Jackie, in the TV Sitcom
Roseanne
. Over the course of nine seasons, Laurie's portrayal of Jackie was warm and kind-hearted but a tad bit neurotic and always on edge. Laurie won two Emmys for that role on
Roseanne
. Before her career in television Laurie got her start in theater as a founding member of the legendary Steppenwolf Theater Company in Chicago. At the Steppenwolf she worked with the likes of John Malkovich, Terry Kinney and Gary Sinise.
This year, she's up for the best supporting actress Oscar for her role in Lady Bird. It's her first ever nomination for an Oscar. In Lady Bird she plays Marion McPherson, the mother of Christine "Lady Bird" McPherson. The McPhersons live in Sacramento and the whole movie is set in 2002. It's almost like a period piece from the Bush years. As "Lady Bird" approaches the end of her high school career their relationship is tested. The film examines their mother-daughter dynamic in a very realistic way — it's messy, it's complicated, but there's also a lot of motherly love involved even if Marion doesn't exactly show it.
Jesse talks with Laurie about her long career and the parallels between her life and the mother she plays in Lady Bird. Plus, Laurie talks about what it was like to be reunited with the cast of Roseanne for the new television reboot after more than 20 years.
You can see Laurie Metcalf in upcoming redition of Edward Albee's Three Tall Women this spring on Broadway. And Lady Bird is still playing in select theaters.
Click here to listen to this interview on the Bullseye YouTube page!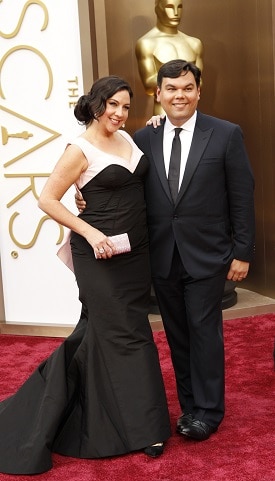 Photo: Disney/ABC Television Group
Songwriting power couple Kristen Anderson-Lopez & Robert Lopez on writing Oscar nominated songs
Kristen Anderson-Lopez and Robert Lopez have written dozens of songs for movie and TV. Together the married couple have won award after award for their co-written songs. You've certainly heard the song they co-wrote called "Let It Go" from Disney's Frozen. The song was huge success. The theatrical version of the song reached #5 on the Billboard Hot 100. The song also won an Academy Award for Best Original Song in 2014 and a Grammy in 2015 for Best Song Written for Visual Media.
Robert's also written music for The Book of Mormon, Avenue Q, Scrubs and more. He's actually one of only 12 people to win an Emmy, Grammy, Oscar and Tony Award. Kristen and Robert are up for another Oscar this year — this time for the co-written song "Remember Me" from Disney's Coco.
They talk to Jesse about the process behind writing that song, how they managed to sneak in adult jokes in children's songs, and how they find time in their busy schedules to be good parents, too. Plus, Jesse asked them about the first song they co-wrote together called "The Wide, Wide World," which is a song from Bear in the Big Blue House a television show from the early 2000's that aired on Playhouse Disney.
You don't want to miss it, the song is sung by a gang of puppet animals including a bear, a green lemur, and two purple otters. They had to rewrite the song about five times because they couldn't quite get the otter jokes right!
Click here to listen to this interview on the Bullseye YouTube page!
Guests
Laurie Metcalf
Kristen Anderson-Lopez
Robert Lopez
About the show
Bullseye is a celebration of the best of arts and culture in public radio form. Host Jesse Thorn sifts the wheat from the chaff to bring you in-depth interviews with the most revered and revolutionary minds in our culture.
Bullseye has been featured in Time, The New York Times, GQ and McSweeney's, which called it "the kind of show people listen to in a more perfect world." Since April 2013, the show has been distributed by NPR.
If you would like to pitch a guest for Bullseye, please CLICK HERE. You can also follow Bullseye on Twitter, YouTube, and Facebook. For more about Bullseye and to see a list of stations that carry it, please click here.
Get in touch with the show
How to listen
Stream or download episodes directly from our website, or listen via your favorite podcatcher!