Episode notes
New to Bullseye? Subscribe to our podcast in iTunes or with your favorite podcatcher to make sure you automatically get the newest episode every week.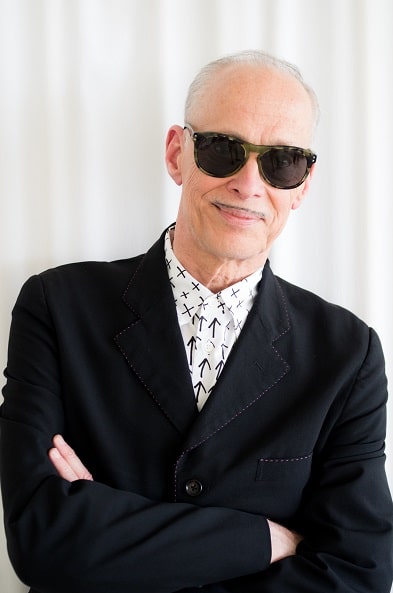 Photo: Jesse Thorn
John Waters on his legacy in film, Little Richard, his mustache, and more
John Waters is a director who hasn't made a movie in over a decade, and he doesn't really plan to make any more. He's directed some classics like
Pink Flamingos
,
Cry-Baby
and probably most notably
Hairspray
.
Even though he's not making movies anymore, he keeps busy. He's an actor – he played director William Castle in FX's Feud, Pete Peters in Seed of Chucky and he even had a cameo in one of those Alvin and the Chipmunks movies.
He's done a ton of live performances, released a few compilation albums and he's written seven books. When he joined us in studio he talked about his book Make Trouble. The book was based off a commencement speech he gave at the Rhode Island School of Design in 2015.
Jesse talks with him about Little Richard, trigger warnings, and how the film industry tried (and failed) to make the King of Trash compromise his work. Plus, he'll tell us about the fabulous Commes de Garcon shirt he wore to the recording.
His latest is his memoir, Mr. Know-It-All: The Tarnished Wisdom of a Filth Elder. It's out now. You can also find the recent Criterion Collection re-release of Multiple Maniacs, one of John's first ever movies on DVD.
About the show
Bullseye is a celebration of the best of arts and culture in public radio form. Host Jesse Thorn sifts the wheat from the chaff to bring you in-depth interviews with the most revered and revolutionary minds in our culture.
Bullseye has been featured in Time, The New York Times, GQ and McSweeney's, which called it "the kind of show people listen to in a more perfect world." Since April 2013, the show has been distributed by NPR.
If you would like to pitch a guest for Bullseye, please CLICK HERE. You can also follow Bullseye on Twitter, YouTube, and Facebook. For more about Bullseye and to see a list of stations that carry it, please click here.
Get in touch with the show
How to listen
Stream or download episodes directly from our website, or listen via your favorite podcatcher!