Episode notes
New to Bullseye? Subscribe to our podcast in iTunes or with your favorite podcatcher to make sure you automatically get the newest episode every week.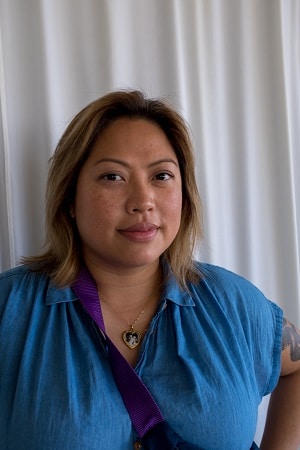 Photo: Jesse Thorn
Director Kulap Vilayack on her new documentary "Origin Story."
You're probably familiar with the work of Kulap Vilaysack already. Odds are it's because she made you laugh. Maybe it was on her podcast,
Who Charted,
which ran for 8 years on the Earwolf network. Maybe you know her from
Bajillion Dollar Properties,
a show she created which ran on the Seeso network. Maybe you've seen her in a TV role. Kulap has appeared in dozens of shows. She's been on
Bob's Burgers,
Comedy Bang Bang,
and
Children's Hospital,
just to name a few. One of our favorites was probably her part in
Parks and Recreation.
For as long as Kulap has been a working actor, comedian, and showrunner she's been working on a different project in the background. A very special project. It's a documentary called Origin Story. Kulap makes her feature-length directorial debut and is the center of the film. It's about family secrets, learning to adapt to them, to empathize with difficult parents, and to connect with brand new ones.
Kulap was raised in Minnesota. Her parents were both refugees from Laos. One night, during a family argument, her mom told her something that would change her life completely: that the man who had raised her isn't her birth father.
In Origin Story, Kulap confronts her history head on. She reckons with her parents, her mom, in particular. She talks about identity and her experience as a second generation immigrant. She finds her birth father, and goes to Laos to meet him. The film is moving. It's healing. We just can't recommend it enough.
Origin Story, is a really compelling, affecting film. You can stream it now on Amazon. If you haven't checked out her show Bajillion Dollar Properties… well, it's completely different from Origin Story in pretty much every way, but it's also great. It's streaming on a handful of platforms, including Amazon.
About the show
Bullseye is a celebration of the best of arts and culture in public radio form. Host Jesse Thorn sifts the wheat from the chaff to bring you in-depth interviews with the most revered and revolutionary minds in our culture.
Bullseye has been featured in Time, The New York Times, GQ and McSweeney's, which called it "the kind of show people listen to in a more perfect world." Since April 2013, the show has been distributed by NPR.
If you would like to pitch a guest for Bullseye, please CLICK HERE. You can also follow Bullseye on Twitter, YouTube, and Facebook. For more about Bullseye and to see a list of stations that carry it, please click here.
Get in touch with the show
How to listen
Stream or download episodes directly from our website, or listen via your favorite podcatcher!