Hiyo we've got SOME BIG NEWS in this week's newsletter! Starting with…
New (To Us) Show! The Outer Reach: Stories from Beyond
Our friend (and one of MaxFun's first producers!) award-winning producer/editor Nick White made a really cool podcast a few years ago called The Outer Reach: Stories from Beyond. It's an immersive sci-fi radio anthology that transports you into the future, where space travel is common, but so are the usual struggles humans deal with (you know, stuff like love and failure). The show features some voices you've heard, including Aparna Nancherla, Martin Starr, and two up-and-comers, Jordan Morris and Jesse Thorn. Now seemed like a really good time to share some new stories that will make you feel like you're in a different place, so when Nick came to us to see if we wanted to make it available on MaxFun, we jumped at the chance. You won't be able to add this one to your listening habits – we can thank Howl and Midroll for helping to bring this show to life as a Stitcher exclusive in 2017. We're just grateful that we get to bring it to you today. You can listen to all five episodes right now on MaximumFun.org, Apple Podcasts, Stitcher, or wherever you get your shows.
---
Bubble's Being Adapted Into An Animated Movie!
You probably saw the commotion on Twitter when the news first broke (basically immediately after I sent last week's newsletter, whoops), but in case you missed it: a Bubble movie is in development!!!! Seth Rogen and Evan Goldberg are working on adapting it into an animated film, and the script is  – of course – being written by Jordan Morris! The AV Club released a nice writeup (including a little nod to Jordan, Jesse Go!) if you'd like to check that out. We are incredibly excited and so proud of our friend Jordan, and all of the fantastic folks who worked so hard to bring Fairhaven to life. Fingers crossed that you'll be able to see it in the not-too-distant future!  Please feel free to send Jordan your congratulations, and definitely check out – or relisten to – Bubble!
---
Livestreamed Events!
Dead Pilots Society hosts Ben Blacker and Andrew Reich have been consistently putting on shows in LA featuring star-studded live reads of great pilots that were developed, but were never produced. If you've never been able to see one, I've got great news for you: Dead Pilots society is doing a live online taping on May 16 at 5pm PT!
They'll be featuring the pilot "Elsewhere" by Corinne Kingsbury and Noelle Valdivia, and it's being read by folks like TIG NOTARO, MARTIN STARR, KIMIKO GLENN, HUMPHREY KER, KATE WALSH, and more! Plus, tickets are only $10 bucks and the show will benefit the Hollywood Support Staff Relief Fund. This is a great event to jump in on even if you've never listened to the show before, so be sure to get your tickets and enjoy!
Mission to Zyxx has been doing some really fun and interactive live virtual events, and today is a big day for them! It's May the Sp8th! To celebrate, they're doing a live crew mailbag episode at 1pm PT over on their YouTube channel. If you have any burning questions about the goings-on in the ass-end of space, send your questions to crew@missiontozyxx.com, or you can ask them on YouTube during the show. Rumor has it there miiiiiiight be some LIVE SOUND DESIGN from Shane O'Connell!
The hosts of Who Shot Ya? – Alonso Duralde, Drea Clark, and Ify Nwadiwe – are doing a live watchalong of The Avengers on Saturday, May 16 at 1pm PT (so you can partake even if you're on GMT time!). To make things even more exciting, they'll be joined by special guest Jordan Morris, and YOU can participate in the chat as long as you've got a Twitch account. They'll be streaming through Ify's Twitch, so click here for details on how to get in on the fun.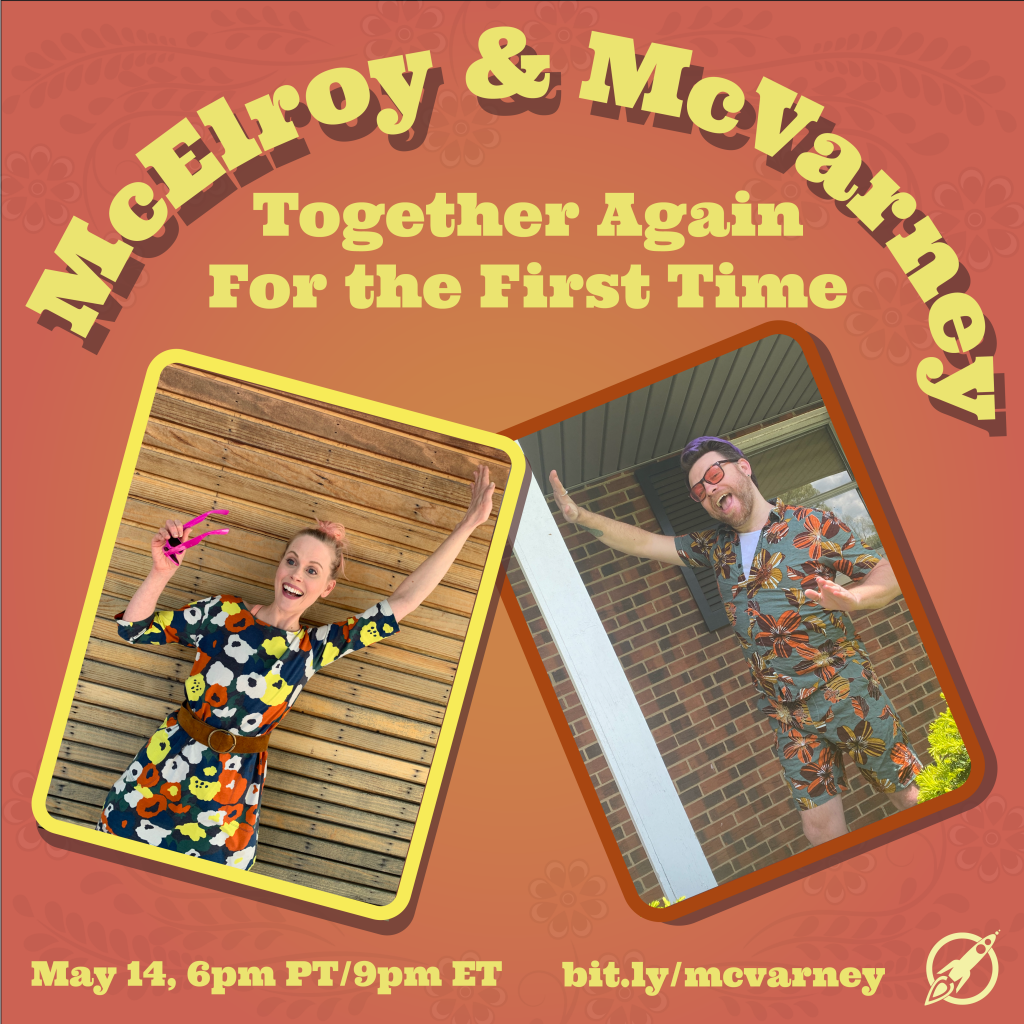 On May 14th at 7pm PT, mark your calendars for McElroy and McVarney: Together Again for the First Time! Travis McElroy and Janet Varney, two of the nicest people you could ever hope to meet, are going to be hanging out and talking about things they love. And also being really nice. More details coming very soon, but pencil it on your calendar!
Mark Gagliardi, Hal Lublin, and producer Ken Plume are doing another live Clean Slate episode of We Got This! Tune in to their YouTube channel tonight (Friday, May 8) around 5pm to watch them settle audience-submitted debates on the small topics that are a big deal to folks! If you'd like to submit a topic request, send it over to their Twitter account, then tune in to see if yours gets chosen!
---
Livestreams and more!
This past week:
Unwind Live: Go Fact Yourself with Jonathan Coulton and Ophira Eisenberg
Clint McElroy Stories from Your Gaffer
John Hodgman's Get Your Pets
Coming up next:
Today:
Mission to Zyxx May the Sp8th Mailbag Episode
We Got This: Clean Slate Live
Travis McElroy and CUSS: Jackbox for a Cause
John Hodgman's Get Your Pets
Clint McElroy's Stories From Your Gaffer
Thursday, May 14:
McElroy and McVarney: Together Again for the First Time!
Saturday, May 16:
Who Shot Ya's Live Watchalong of The Avengers with special guest Jordan Morris
Dead Pilots Society Live Taping Featuring Tig Notaro, Martin Starr, and more!
Be sure to sync the MaxFun events calendar to your own!
---
We'd like to hear from you!
Email april@maximumfun.org with your photos and stories about what you're up to when listening to MaxFun or just in general. We've got a blog post that we are continually updating with some of the fun stuff that MaxFunsters are doing.
---
Here's what MaxFun staff members are up to!
Jordan Kauwling, Production Fellow
Jordan and her roommates are taking theme parties to the next level.
"I am very fortunate to be sheltering in place with my lovely Los Angeles roommates. We're more like a family than strangers quarantined together and we love to keep each other focused and protected by checking in daily. During this time we have come up with tons of fun things to do to occupy our time including learning new recipes, watching trashy romcoms and playing board games. Lots and lots of board games.
One night, while debating on whether to watch Clue or Clueless we came up with an ingenious idea. From there the idea for a Clue and Clueless soiree was birthed! The rules are simple: Each roommate shows up for dinner dressed in their best 90s fashions inspired by the movie Clueless while we play the boardgame Clue. From there we move on to the living room where we watch the movie Clueless while dressed as our favorite Clue (the movie) character. If that all sounds super complicated, don't worry. It is!
Clue and Clueless is a lot of fun and we even find ways to play with our friends who are sheltering in their homes via Zoom.
So far, my roomie Brian remains undefeated.
We all hope that you and your loved ones are safe during these uncertain times and we can't wait to see you all again very soon."
If you'd like to get updates like this in your email, please go to bit.ly/maxfunnewsletter to subscribe.