Hey friends!
We've created this space to celebrate each other as a community and to share with each other all the interesting ways we're spending our time. If you'd like to share photos of what you're up to while you listen to MaxFun shows—or even just what you're up to in general—email april@maximumfun.org and we'll pick some submissions to share here!
Take a look at what MaxFunsters have been up to below.
Hobbies and Crafts:
Ellen VanderMyde (she/her/they) has been drawing and painting every day while listening to her favorite MaxFun pods. She also includes some art inspired by The Adventure Zone- Snippers the crab and Rainer's squirrel skeleton!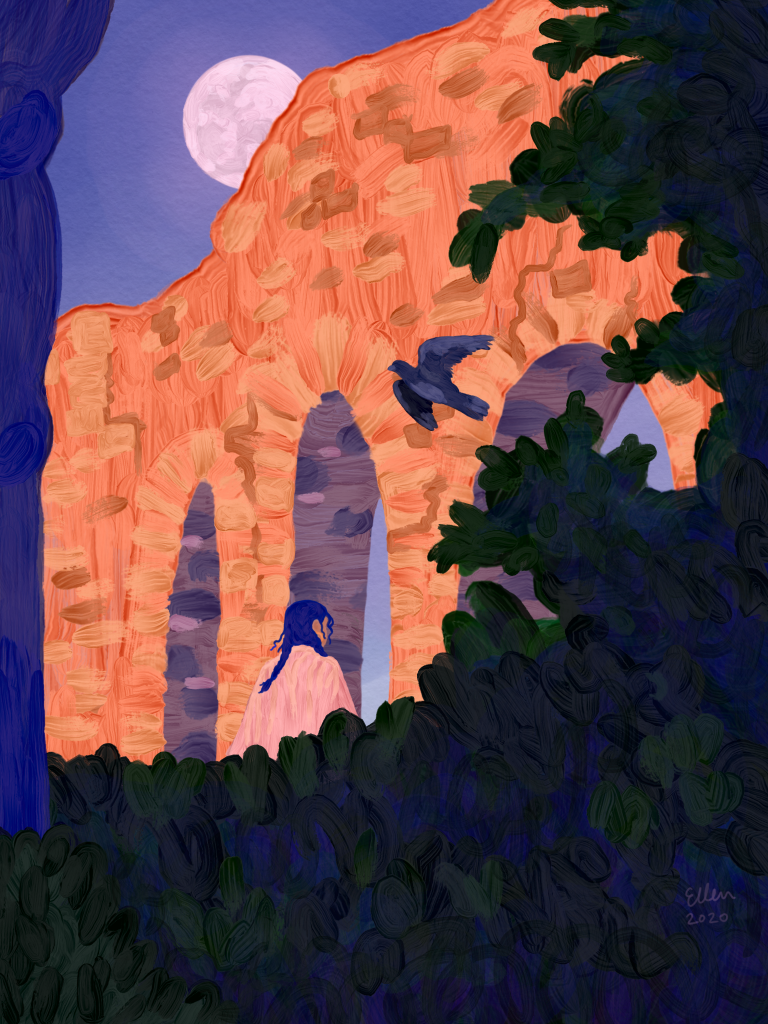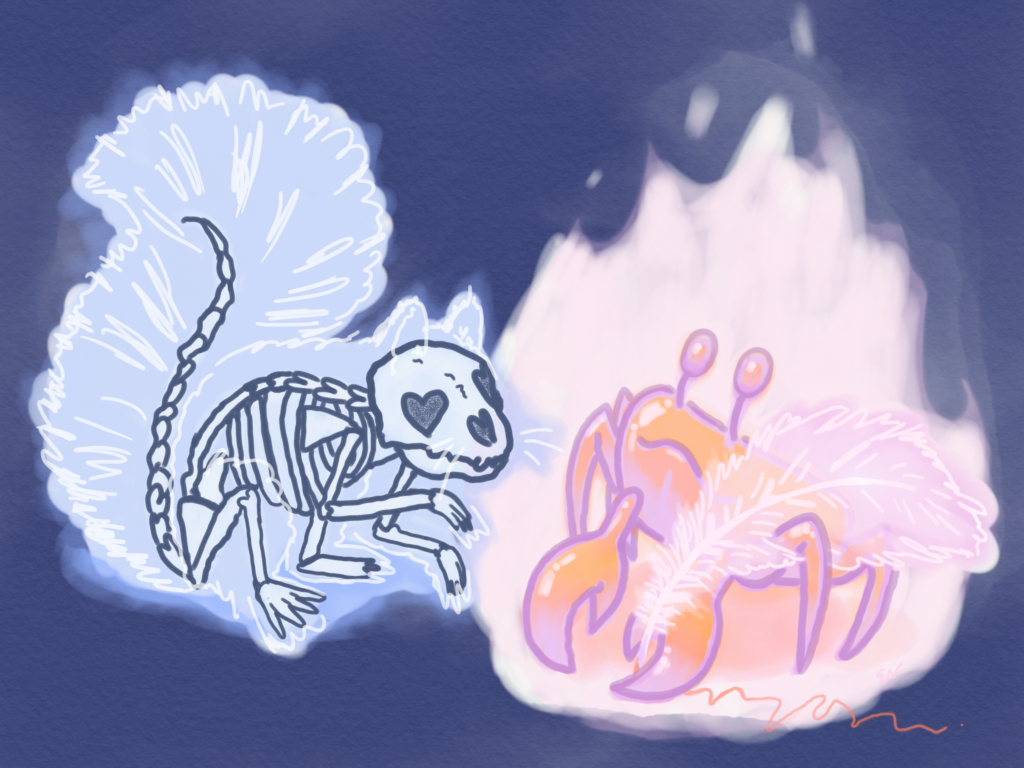 Stacey Molski (she/her), MaxFun Manager of Audience Development and Communications, is nurturing some plants.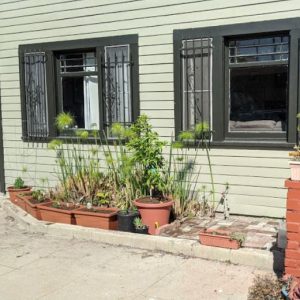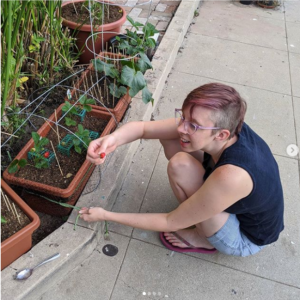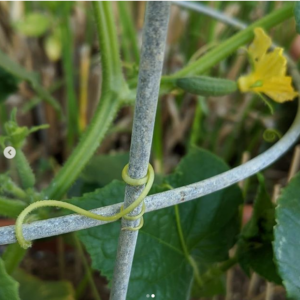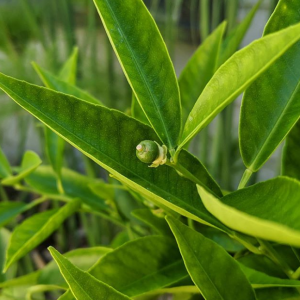 Stacey Says: "Right around the start of social distancing, I asked my landlord if my boyfriend and I could fix up our little outdoor space in front of our 4-plex. That's how we ended up with this tiny little garden jammed up against our apartment in LA. We planted strawberries, cucumbers, tomatoes, spinach, peppers, and a little clementine tree – all in containers. I was immediately super emotionally attached to them, while also doing little to no research on how to help them grow (they are!) or not get eaten by bugs (they are!), and assuming they'd all probably die pretty quickly. So far the only thing that's really died is the spinach we trashed after an outdoor cat pooped on it.
The first night after we planted, I asked my boyfriend if he thought the plants would sleep ok outside. A few days ago, I looked at the little vines that our cucumber plant had carefully wrapped around the wire support, and asked if he thought that if I stood out there with my finger out for 4-6 hours if the cucumber vine would hold my finger. Just normal stuff. I have googled a lot of things like "how does baby clementine grow," "does strawberry come from flower," "is praying mantis garden friend" (we have one living on our pepper plant!) and other things like that, as though I am a person who just learned that food comes from the ground. The wild thing is that I spent most of my teen years working on a living history farm, dressed like it was the 1890s, farming and gardening for the public. You'd think I'd remember how to do it.
If I can grow things, you can grow things – give it a try! It's given me a lot of joy and taught me that it's possible to do a lot with a little, that some stuff perseveres against all odds, that having one tiny strawberry a day helps a lot, and that sometimes your thing gets pooped on and you just gotta start over."
Case Saeger (they/them) is really into decorating things, and they made this fun and exceptionally cheerful piece of mail art for their long-distance partner.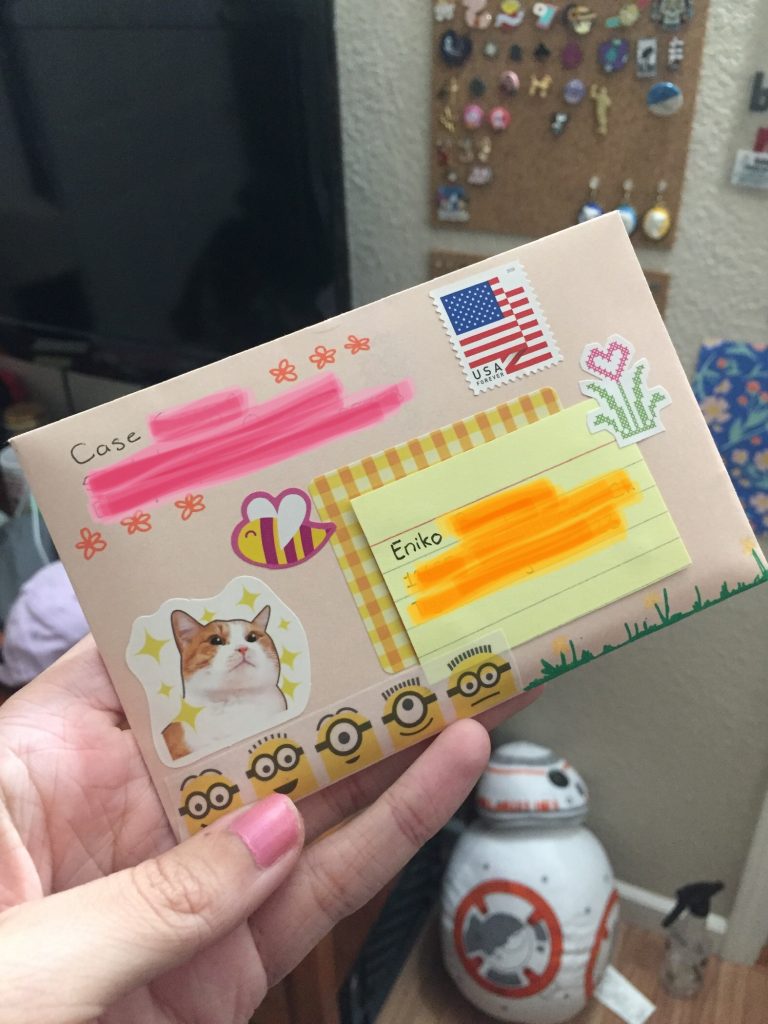 Bikram Chatterji (he/him), MaxFun Managing Director, has been tending to his plants.
Bikram says: "My wife and I have been growing a small vegetable garden alongside our driveway – we planted starter tomatoes, purple beans, basil, and sweet and hot thai chillies (not gonna lie, the hot chilies are TOO HOT for me, but I like to use them sparingly and occasionally). We also planted peas from seed. It's been great to see the tomatoes flourish, and the bean flowers are surprisingly beautiful, but I've been proudest of the peas, which poked their little shoots out a few weeks back and are now growing nicely, all in a row. There's something hopeful about gardening, which I hadn't really appreciated, but it's a comfort to us now."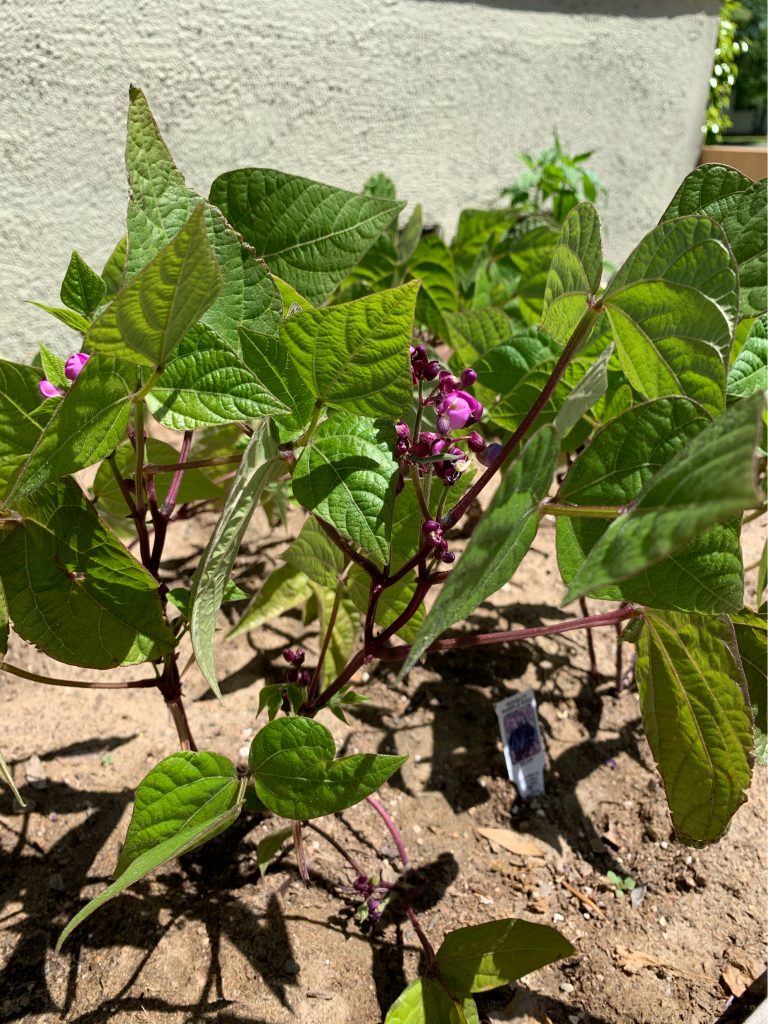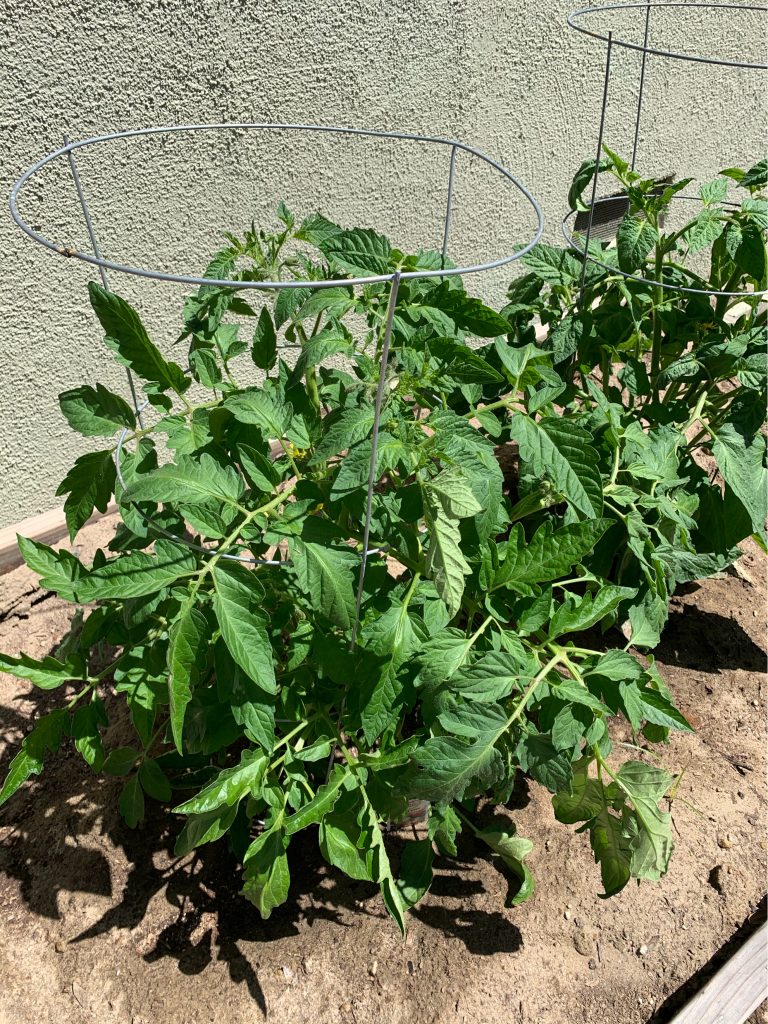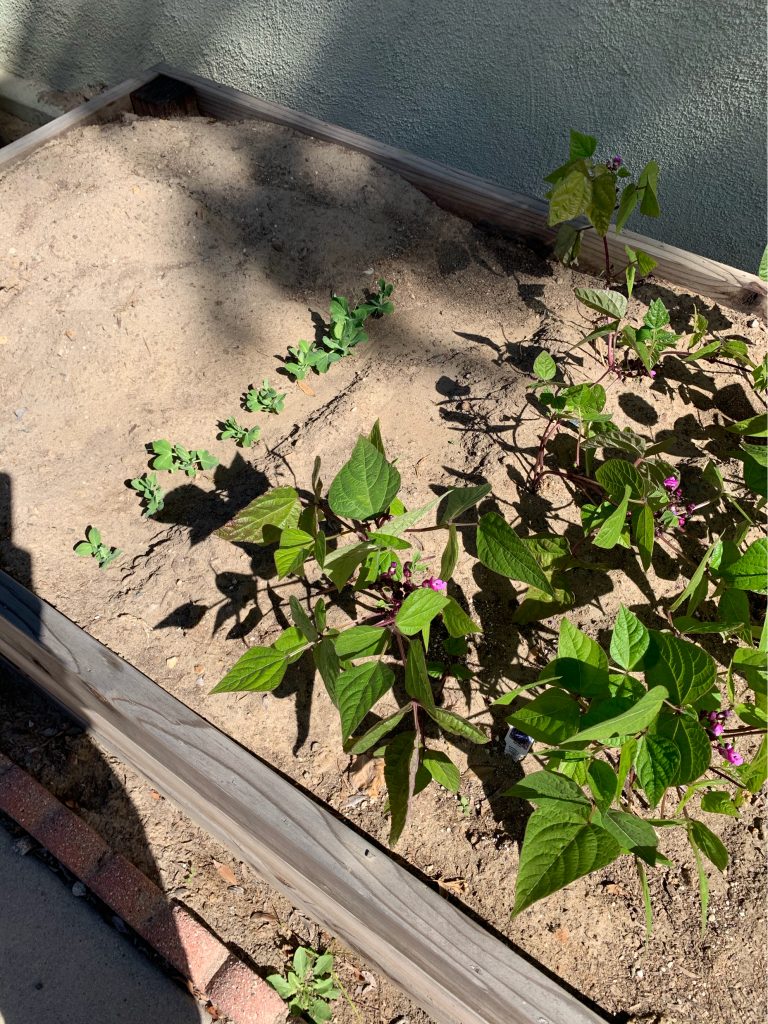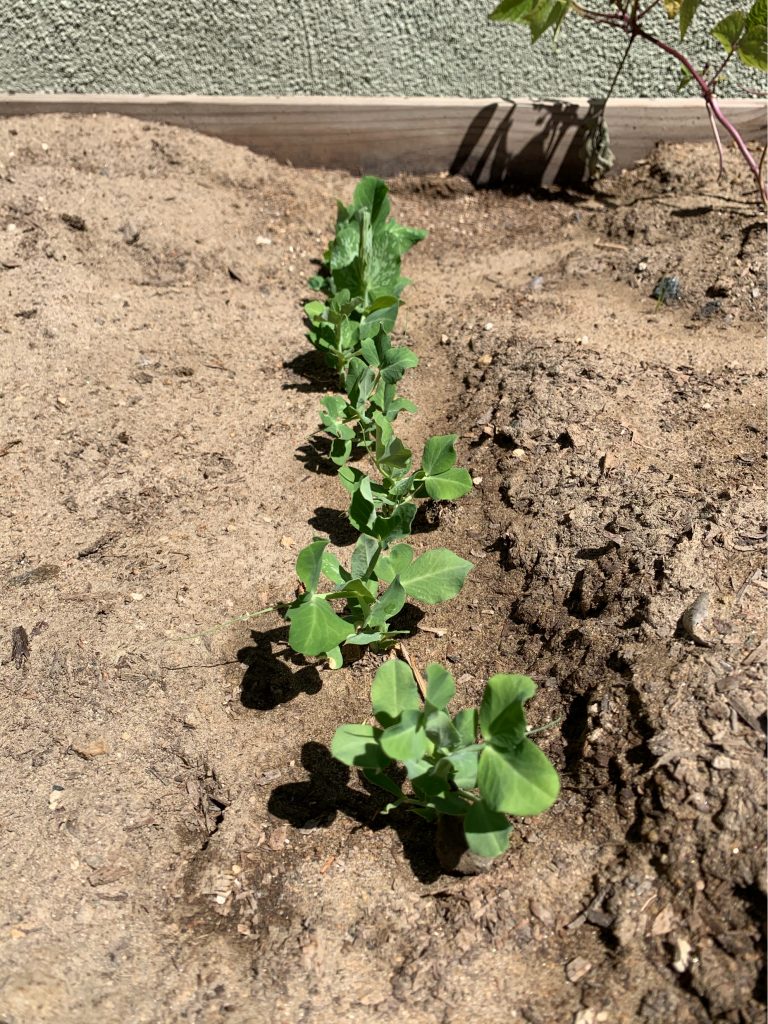 Jesus Ambrosio (he/him), MaxFun Producer,  has been doing a doodle-a-day for over a month! 

Jesus says: "Howdy Maxfunsters! I'm Jesus Ambrosio, producer here at Maximum Fun. I work for NPR's Bullseye. I'm also a producer for Round Springfield with Allie and Julia. Occasionally an editor for Judge John Hodgman, too. To keep myself busy I've been doing a-doodle-a-day. In a recent Bullseye interview, comic artist Lynda Barry told Jesse Thorn that anybody can draw. I took her word for it. So far I've been at it for 33 days! (Forgot to do one on 3/26, but that didn't discourage me to keep going). Other hobbies I have picked up include brewing my own beer – and doing daily 30 minute dance aerobics with my mom."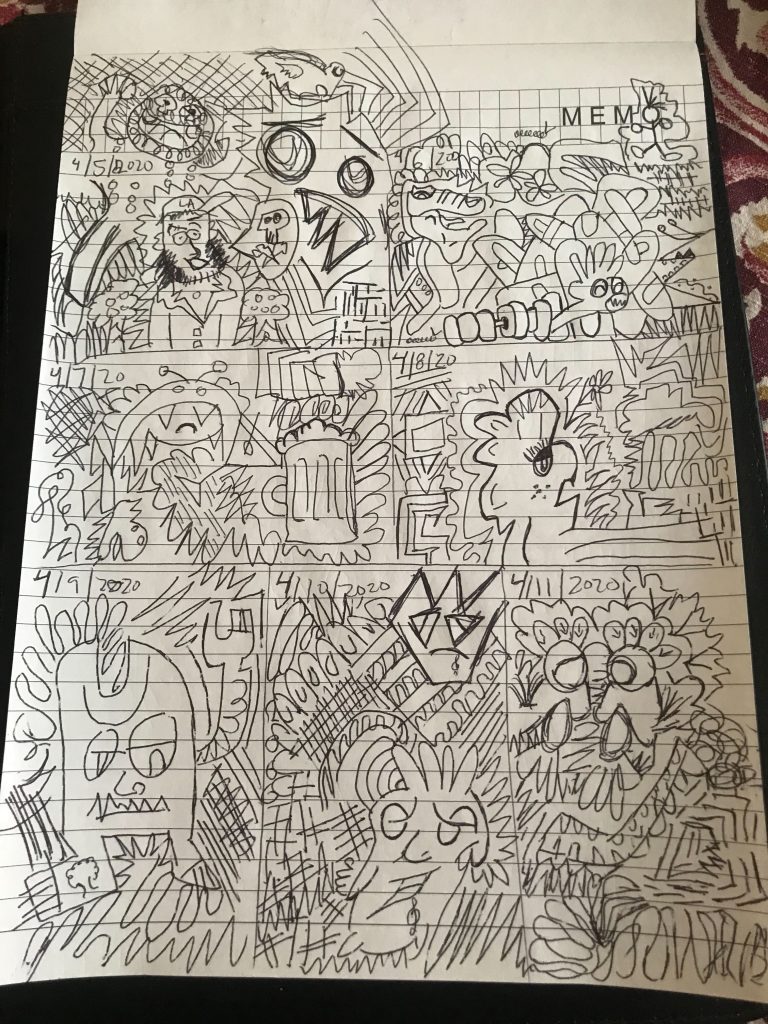 Bobby Silicani (he/him) has revived a pet project of painting miniatures.  These ones are dogs dressed in D&D costumes. I can't even… it's too perfect.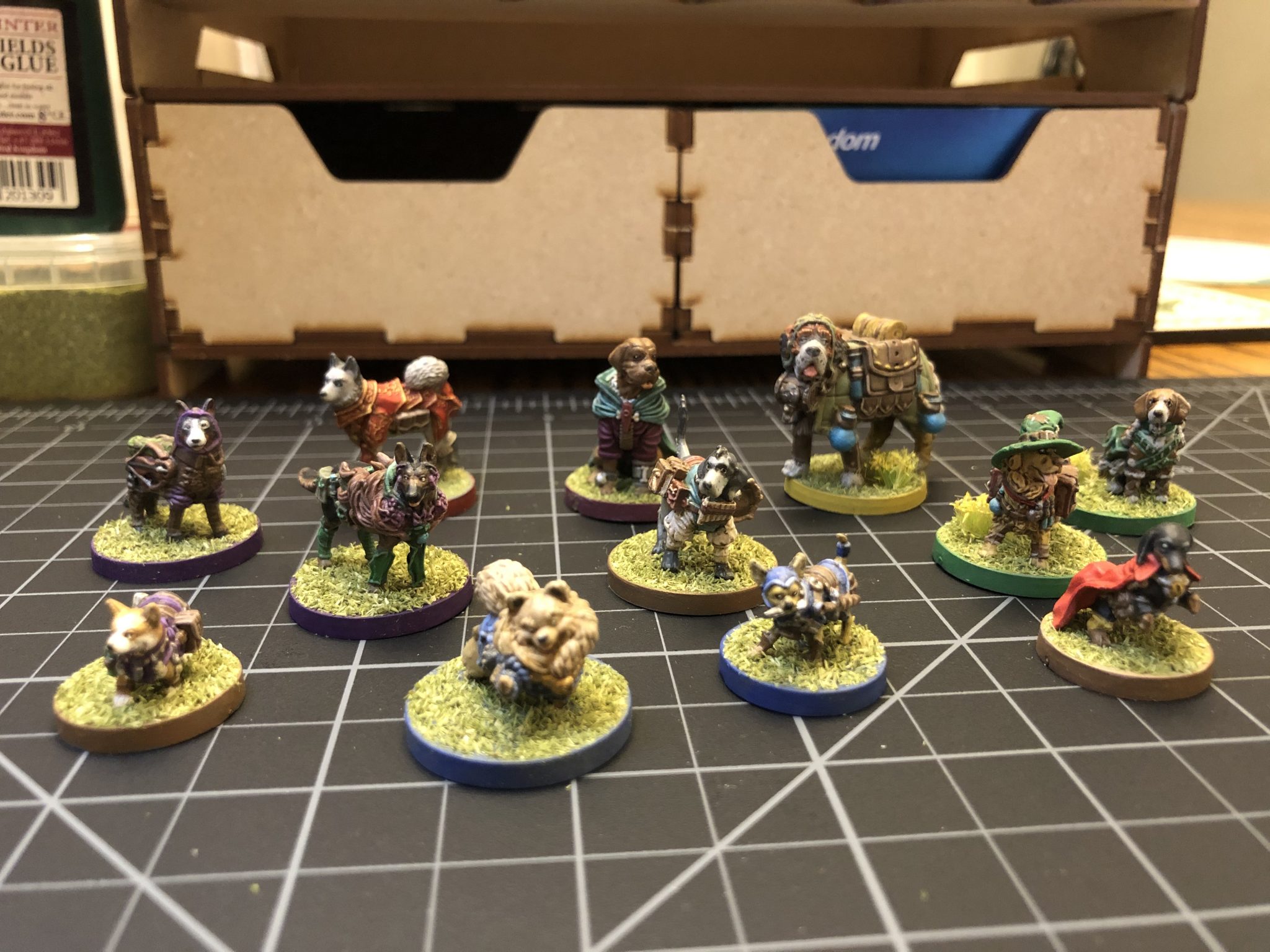 And for good measure, here are Bobby's helper cats.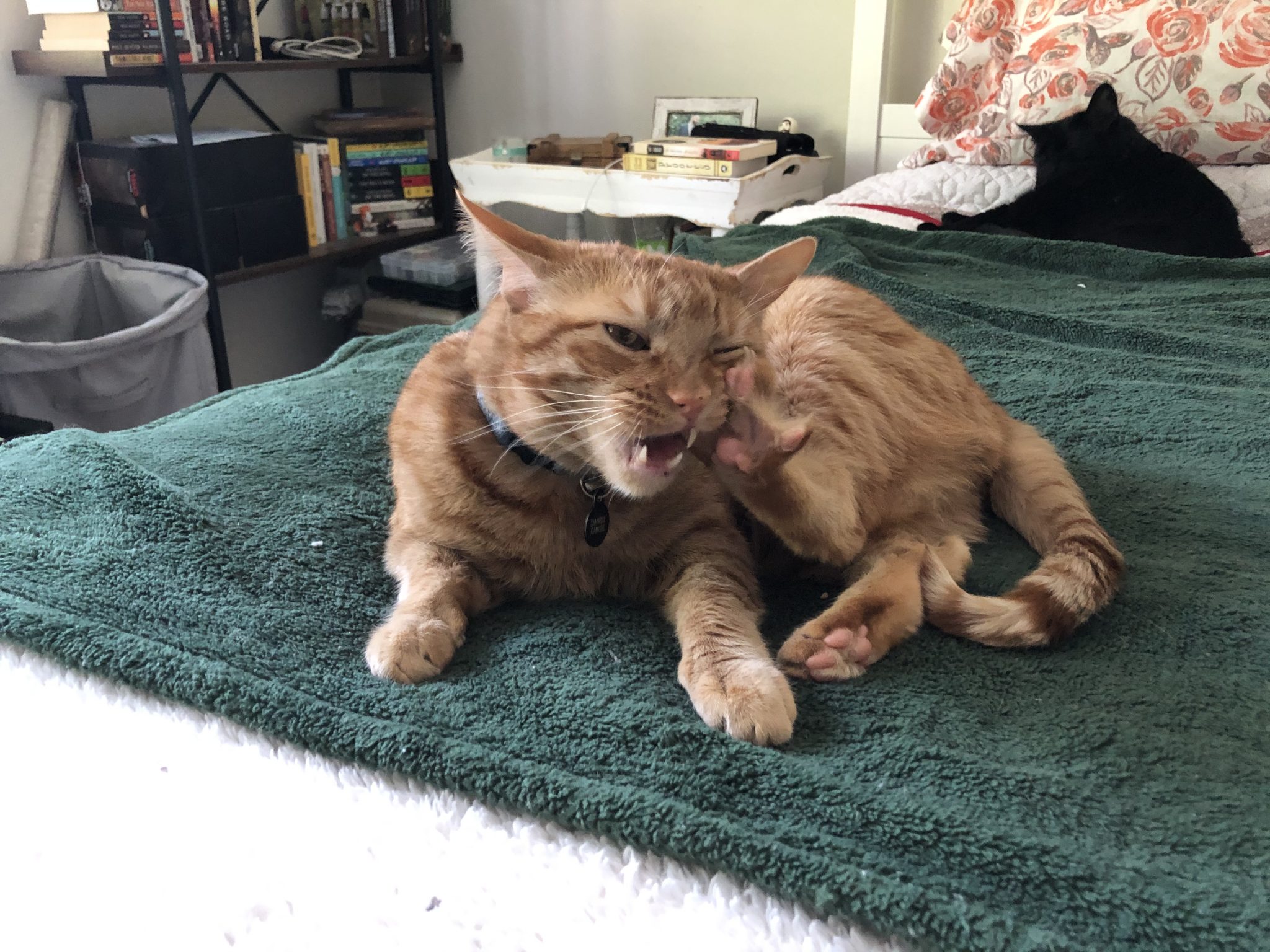 Kira Gowan (she/her), MaxFun Ad Operations Specialist, has been making clay face bowls!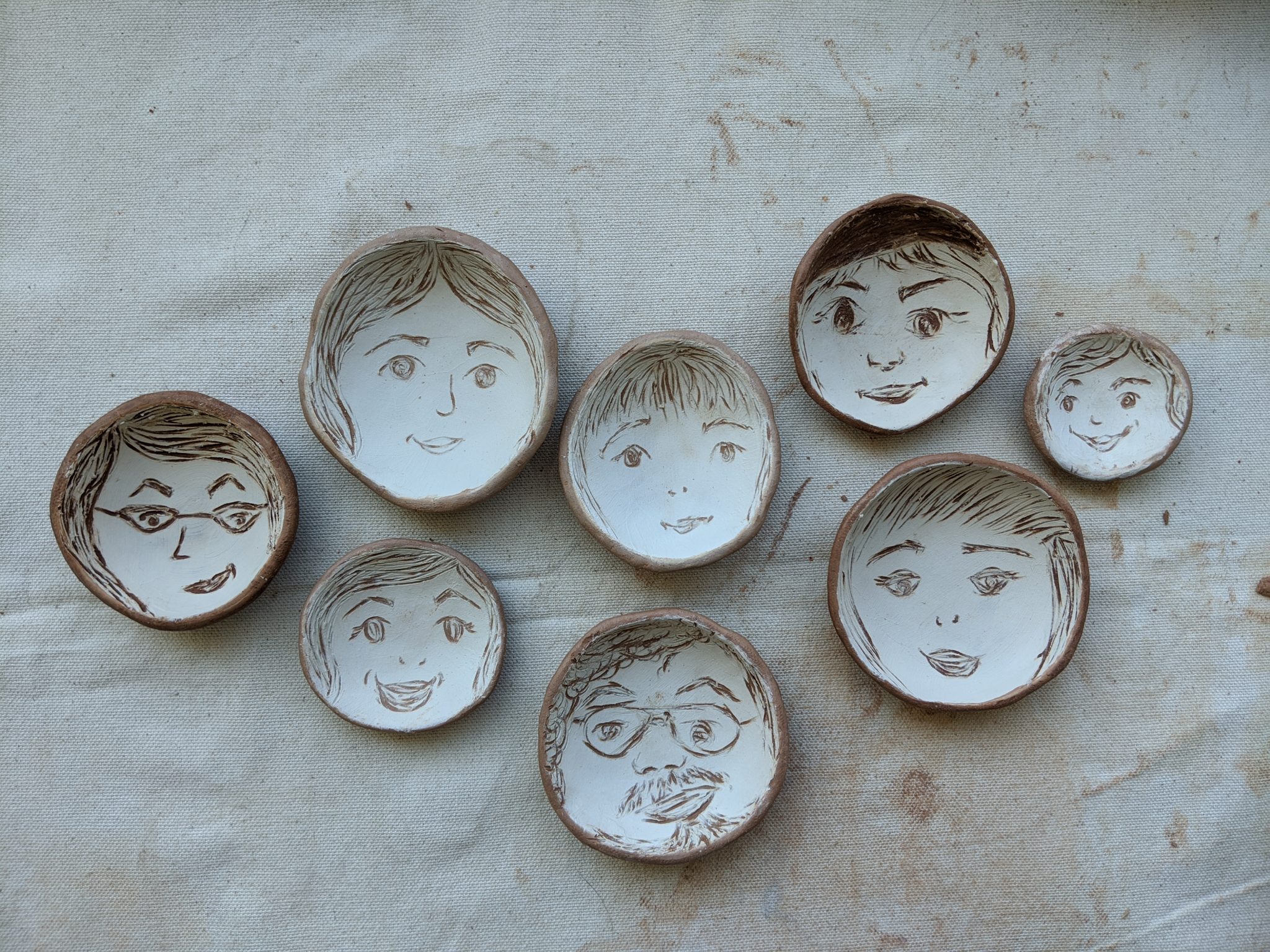 Kira says: "My pottery studio is closed, so I've been working on smaller projects at home. I figured, if I can't invite friends over, I might as well make some new friends."
Cassie Josephs (they/them), MaxFun Transcription Coordinator, has been getting back into knitting, and they've just finished this pair of arm warmers.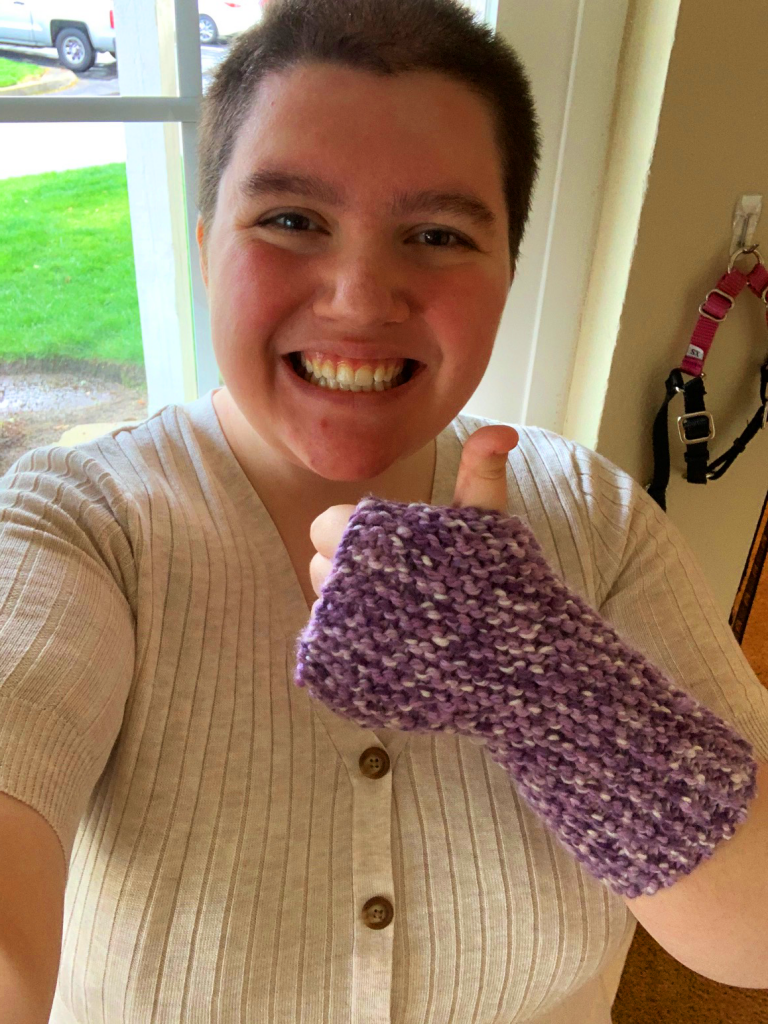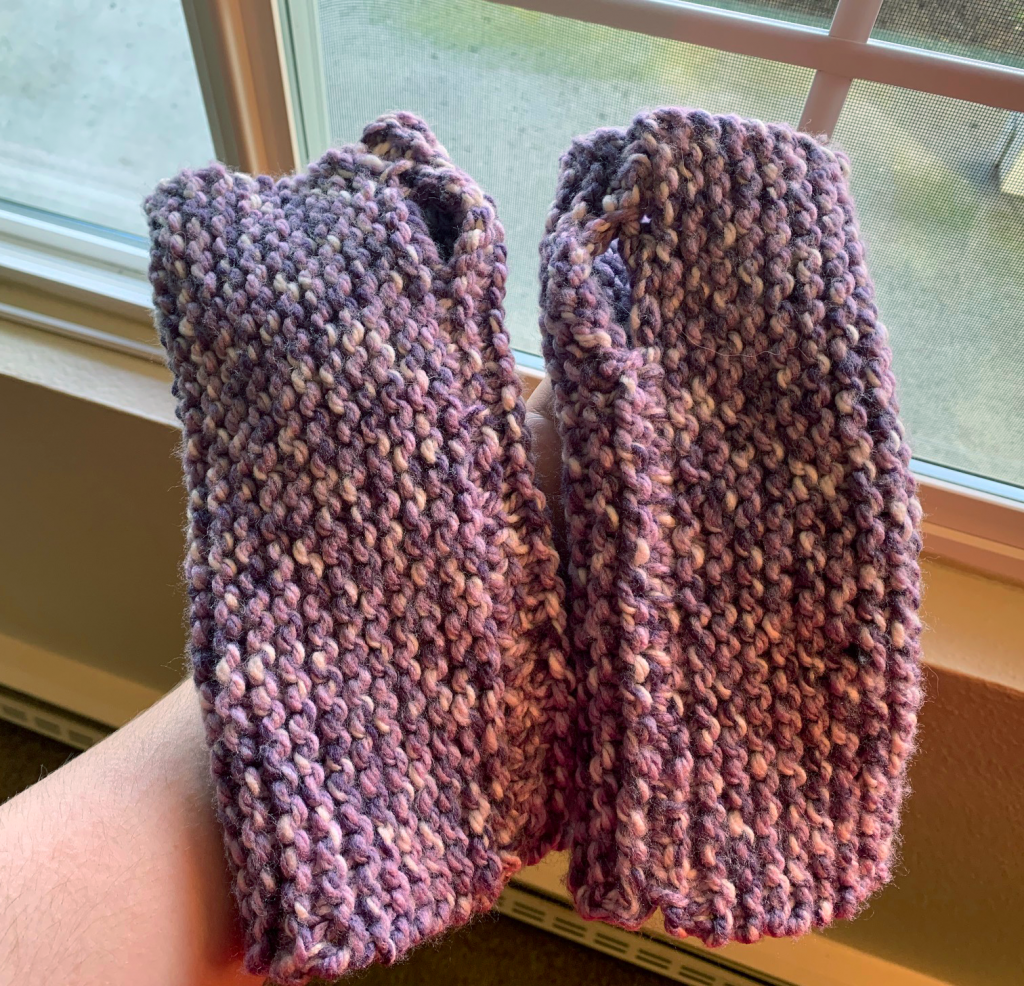 Cassie says: "I've tried picking up knitting many times in the past few years, but I never managed to complete a project. I always tried to make scarves and I always got bored and gave up before I had a good length. When I tried knitting this time, I went for a simpler project: a pair of arm warmers that are just rectangles with the ends sewn together. And, for the first time, I completed a knitting project! If you're struggling with reaching the goal of a project, try re-considering what your goal should be. Make it something attainable and I bet you'll get it in no time!"
Food Ingenuity:
Trish Tempos (she/her) blew our minds when she showed us that you can use an Instant Pot to… pressure cook a cheesecake?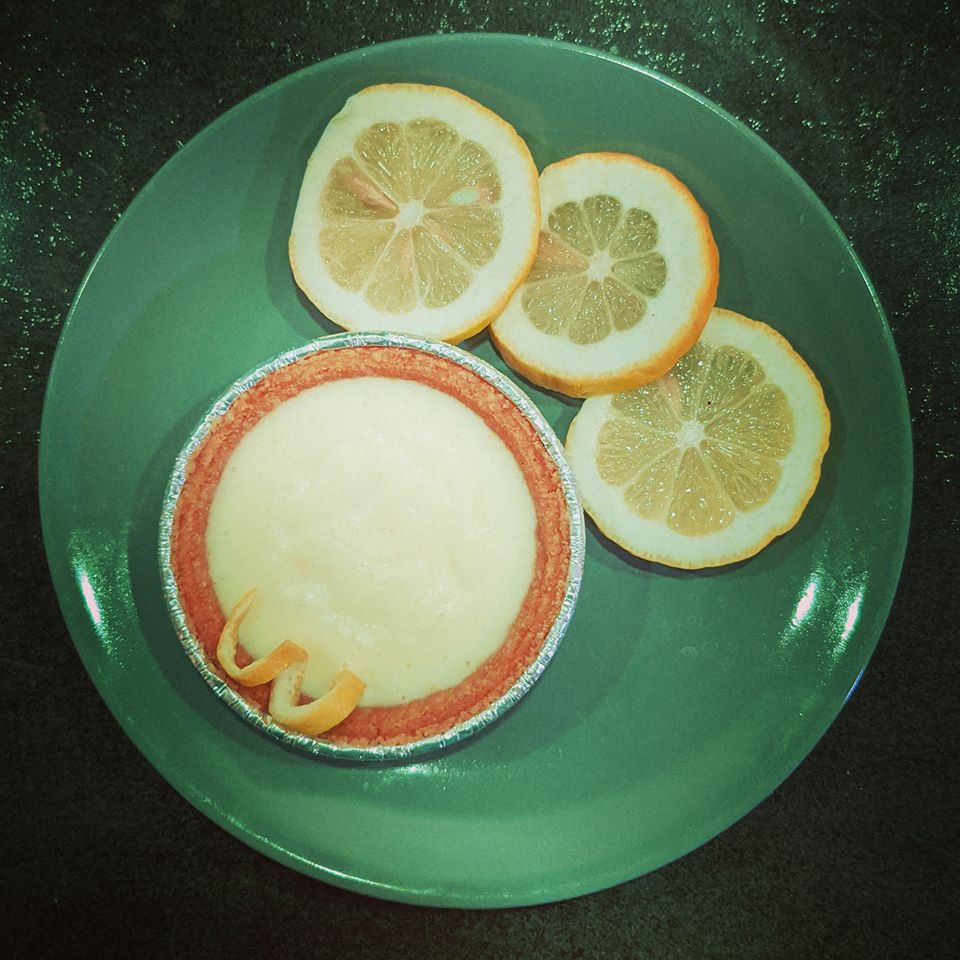 Jennifer Isern Harris (she/her) posted this delicious-looking fried Rice in our Facebook Group.  As she explains it, it's made from leftovers from three different "I'm supposed to be in Hawaii right now" meals. Jennifer cooks for a living!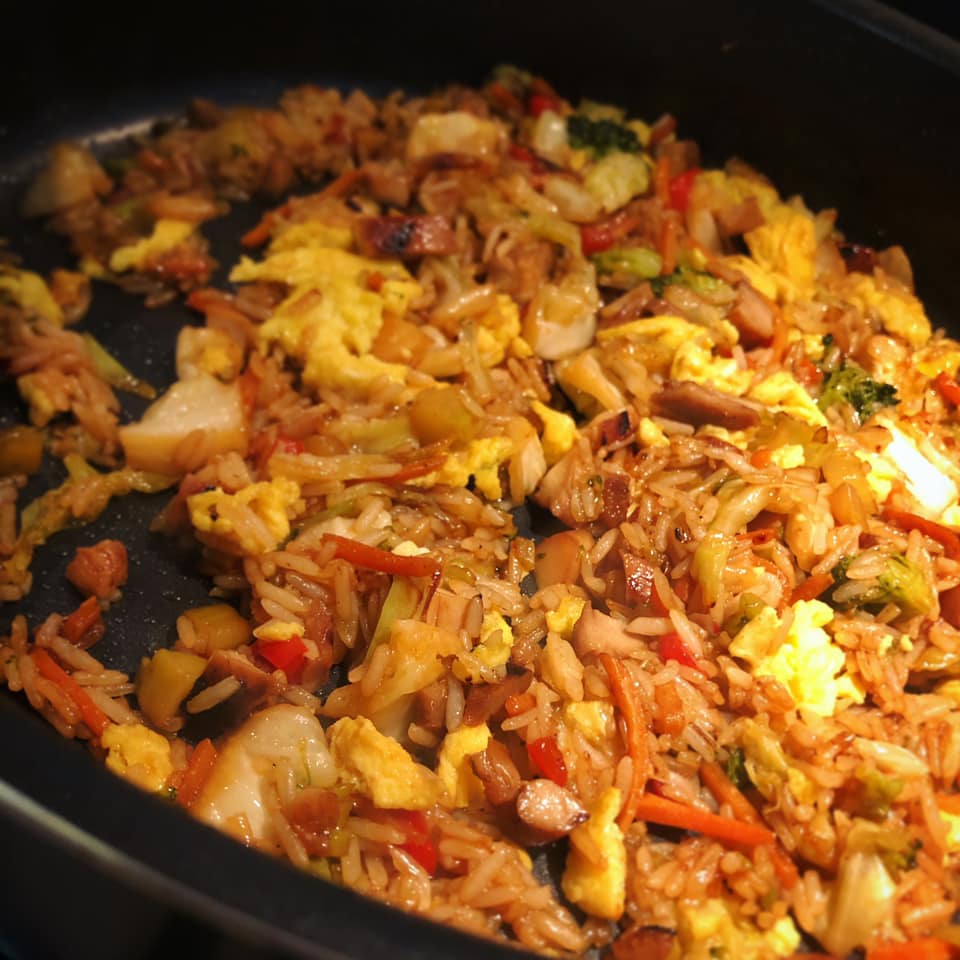 Socially Distancing With Style:
Jordan Kauwling (she/her), MaxFun Production Fellow
Jordan and her roommates are taking theme parties to the next level.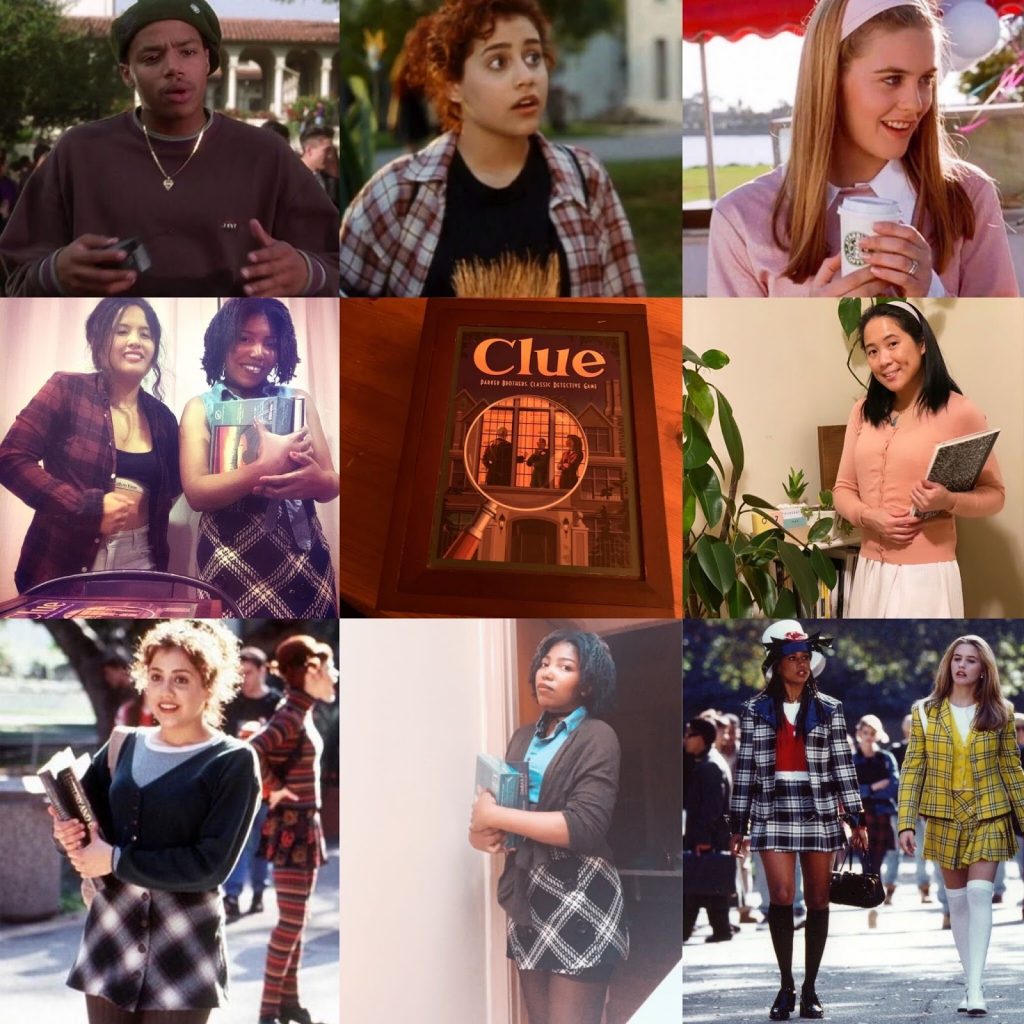 Jordan says: "I am very fortunate to be sheltering in place with my lovely Los Angeles roommates. We're more like a family than strangers quarantined together and we love to keep each other focused and protected by checking in daily. During this time we have come up with tons of fun things to do to occupy our time including learning new recipes, watching trashy romcoms and playing board games. Lots and lots of board games.
One night, while debating on whether to watch Clue or Clueless we came up with an ingenious idea. From there the idea for a Clue and Clueless soiree was birthed! The rules are simple: Each roommate shows up for dinner dressed in their best 90s fashions inspired by the movie Clueless while we play the boardgame Clue. From there we move on to the living room where we watch the movie Clueless while dressed as our favorite Clue (the movie) character. If that all sounds super complicated, don't worry. It is!
Clue and Clueless is a lot of fun and we even find ways to play with our friends who are sheltering in their homes via Zoom.
So far, my roomie Brian remains undefeated.
We all hope that you and your loved ones are safe during these uncertain times and we can't wait to see you all again very soon."
Do you have a hobby to share with the MaxFun Community?  Email april@maximumfun.org with your show-and-tell photos.