I know we've already done a newsletter this month (about the donation we made to Trans Lifeline), but this November just has a lot of exciting things happening, so I'm back again!
---
Brand new merch in time for holiday shopping!
Presenting the shiny new MaxFunStore, just in time for the holidays! A bunch of MaxFun shows added some brand-new items just for you and the podcast-loving people you love. We've got shirts, sweatpants, hoodies, mugs, stickers, posters, beanies, hats, and more! And we'll continue to add some more items this week, as well as throughout the year. So be sure to check back periodically for fun new stuff. (I just bought myself a potato-related shirt, so I really think there's something for everyone here.)
So go find the perfect gift for that special podcast fan in your life (that includes you) over at maxfunstore.com.
Want to see more gift ideas based on your favorite podcast? Check out our full holiday gift guide here.
---
Tarot Show with John Moe to support National CASA/GAL 
This Giving Tuesday (November 29) at 5pm PT/ 8pm ET, John Moe will host a decidedly non-magical but potentially very helpful evening of tarot readings for fellow MaxFun hosts! Find out what questions Carrie Poppy (Oh No Ross and Carrie), Tom Lum (Let's Learn Everything!), Stuart Wellington (The Flop House), and Ellen Weatherford (Just the Zoo of Us) need answered by a bunch of beautiful cardstock and some reflection.
All ticket proceeds support National CASA/GAL, who train volunteers that advocate for children as they navigate the foster care system. Tickets are a suggested donation of $10 (feel free to give more or less, whatever works for your budget). If you can't watch the show live, we'll have it available for a few days afterwards too. And if you can't watch it all, you can still support National CASA/GAL with the MaxFun community by buying a ticket anyway! So join us for a fun, insightful, not-mystical evening and support a good cause at the same time!
And speaking of National CASA/GAL, we even have some MaxFunsters who volunteer as CASAs! If you are a CASA/GAL volunteer and would like to help us share more of what it's like with our community, please email april@maximumfun.org.
---
More bits and bobs!
Several MaxFun shows are finalists for LA Press Club Awards!
Four episodes of Maximum Fun shows are up for National Arts & Entertainment Journalism Awards against contenders from KCRW, Variety, the L.A. Times, and iHeartMedia. We're so proud of these folks, and we encourage you to check out these episodes that made the shortlist.
---
The Dr. Gameshow back catalog is now available as bonus content!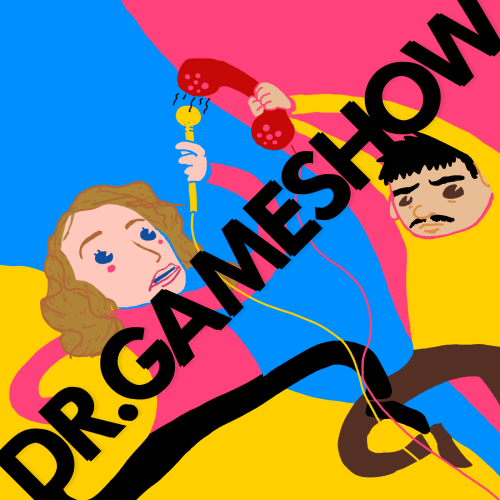 Along with the release of their 100th episode, Dr. Gameshow just added their previously unavailable back catalog to MaxFun Bonus Content! Go check it out and enjoy some chaotic family-friendly games this holiday season. Not a member yet? You can support Dr. Gameshow (and all your favorite shows) and get access to a whole bunch of Bonus Content at maximumfun.org/join.
---
Upcoming live events!
---
Thanks for reading! Hope you get to spend some quality time with people (and pie) that you love this week.