Episode notes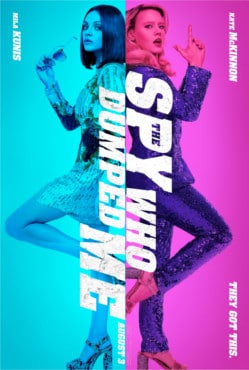 The Spy Who Dumped Me
This is truly a clash of the titans. Drea Clark and Inkoo Kang are featured in the SAME EPISODE! That's right, it's an action packed show where the crew is discussing The Spy Who Dumped Me. Inkoo grills Ricky by asking him, "Why do you hate women?" (She's joking, fyi). Drea cements her status as the show's "wacky neighbor." April can't stop listening to The Tammy's Egyptian Shumba. And Ricky stans for his main man Eddie Murphy. Plus, the gang attempts to name their top 5 comic duos of all time. And as always, staff picks.
In news, Jean-Luc Picard is back, Crazy Rich Asians turns Netflix down, and Steven Seagal is appointed a "Special Reperesentative" of Russian Foreign Ministry.
Weekly Movie Recommendations:
Ricky – Spy
April – Bunny Lake Is Missing
Drea – Skate Kitchen
Inkoo – 1). Crazy Rich Asians 2). McQueen
PLUS, we have two Spotify playlists. One is for Movie Soundtracks and the other is for Movie Scores. Check 'em out!
Next week we're discussing BlacKkKlansman
With Inkoo Kang, April Wolfe, Drea Clark, and Ricky Carmona.
You can let us know what you think of Who Shot Ya? at @WhoShotYaPod on Twitter. Or email us at whoshotya@maximumfun.org
Produced by Casey O'Brien and Laura Swisher for MaximumFun.org.
Guests
Ricky Carmona
April Wolfe
Drea Clark
Inkoo Kang
About the show
A movie podcast that isn't just a bunch of straight white dudes. Comedian Ify Nwadiwe is joined by film producer Drea Clark and film critic Alonso Duralde for a fast, funny, flight through film. Who Shot Ya? is news, reviews and in-depth insight, beamed directly into your ears every week.
Email whoshotya@maximumfun.org and follow the show on Twitter @whoshotyapod.
How to listen
Stream or download episodes directly from our website, or listen via your favorite podcatcher!