Episode notes
New to The Turnaround? Subscribe in Apple Podcasts or with your favorite podcatcher to make sure you automatically get two new interviews a week through August 15th.
Audie Cornish co-hosts NPR's All Things Considered. On NPR, she's often doing live interviews on breaking stories, interviewing reporters and newsbreakers who are on the scene after huge, sometimes really scary events took place. In a world where news moves so quickly, it's gotten easier and easier for hosts like Audie to slip up, maybe get a fact wrong. Honestly, the whole thing kind of terrifies me. But when Audie's covering a breaking story, she's careful, she's unflappable, and prepared.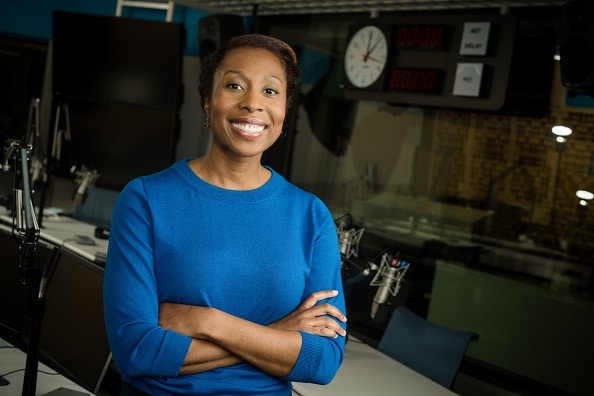 Photo: Stephen Voss/NPR
This week, Jesse sits down with Audie to talk about how she got into broadcasting and the difference between working in broadcasting and print journalism. She tells us what it's like to work at such an established news institution like NPR, and why the word "dispassionate" does not describe her and her fellow broadcasters.
You can listen to Audie Cornish every weekday on NPR's All Things Considered on your local NPR affiliate station.
The Turnaround is a production of Maximum Fun in partnership with the Columbia Journalism Review. Visit their website to learn more about their "mission to encourage excellence in journalism in the service of a free society," and to read edited transcripts of our other Turnaround episodes.
Hosted and created by Jesse Thorn
Produced by Kara Hart and Nick Liao
Senior Producer: Laura Swisher
Managing Director: Bikram Chatterji
Music for The Turnaround provided by Mobius Van ChocStraw.
Special thanks to Kyle Pope and his team at CJR, Darrel Frost, and Emilie Erskine.
About the show
The Turnaround is a show about our greatest living interviewers, hosted by Jesse Thorn and produced by Maximum Fun and Columbia Journalism Review. Featuring conversations with prominent interviewers about their careers and their craft, the show is a perfect resource for a new generation of storytellers and journalists. You'll hear Jesse speak with Larry King, Terry Gross, Werner Herzog, Audie Cornish, and so many more!
How to listen
Stream or download episodes directly from our website, or listen via your favorite podcatcher!